:: Featured Article On ::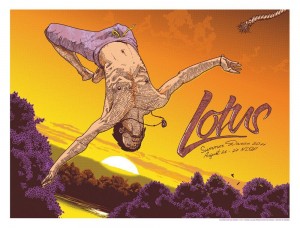 Summer Dance IV :: 08.26.11 – 08.27.11 :: Nelson Ledges Quarry Park :: Garrettsville, OH
A bittersweet end to a summer of love, laughter, and LEDs
Words by: Jeanne Bettencourt and Michael Urban
Photos by: Michael Urban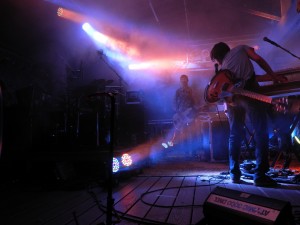 Nelson Ledges welcomed eager Lotus enthusiasts at all hours on Friday, August 26, for the band's fourth Summer Dance Festival. The first impression was a great one. Two stages nestled in an oasis in the woods, combined with happy faces, set the comfortable and energetic tone of the weekend. The festival of roughly 2,500 people traveled from across the country (listening to Divergent Spectrum on repeat – much to the dismay of early arrivals trying to steal a few minutes sleep before plunging head first into the quarry!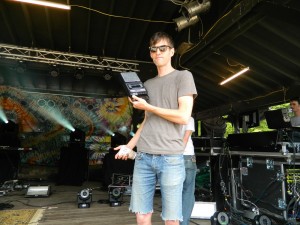 Matched by heavenly weather conditions, the campground's feel-good energy dates back decades when a group of hikers on the other side of the fence shared stories of cliff jumping while Pink Floyd and Heart shared a stage in the early 70s. Summer Dance herself originated after Lotus opened at the Nelson Ledges for another festival five years prior, and the promoter was so impressed with the band he decided to create festival where Lotus was the headlining act. Truth be told, Summer Dance would still exist even if Lotus were not there, but thankfully their ever-growing fan base keep the festival Lotus oriented.
The heavily wooded, permanent campground sites provided the perfect canopy to sleep late and slap babies in the shade while gearing up for an evening of dance parties and misguided (but insanely enjoyable) scatterbrained post-show hikes. You can wait in line for a half an hour to jump 20 feet from a cliff or race your friends to the small island surrounded by crisp, clean water dotted in dreadys and floatation devices. All in all, Nelson Ledges provided the perfect backdrop for a weekend of silliness, heart-sharing and great music.
The stages are set right next to the water's sandy edge and behind the permanent main stage sits a playground and picnic tables. Festival goers meander about the stage without the hassle of security guards and the band is spotted regularly throughout the crowd each day. It's quite nice to have everyone on the same level – while there are definitely some heroes among this group no one is treated as a celebrity.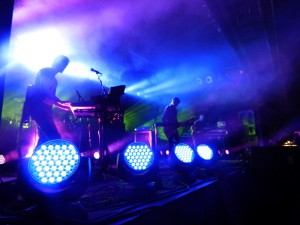 After a summer of the explosion of electronic music (click, drag and drop, anyone?), four sets of Lotus was more than refreshing. Despite the band's segue into a more electronic sound, they stay true to their instruments and provide an innocent glimpse at both sides of the spectrum. Opening the two night celebration with "Bellwether," the four lovable men quickly captivated their crowd like moths to a flame. All four sets were an incredible mixture of dance friendly fan favorites and refreshing new scores
Friday's first set included "The Surf," an airy tune that makes you feel at home with your toes in the sand and a warm, summer breeze on your face. Despite temperatures in the woods dropping below 60, the band turned up the heat during set two. "Blacklight Sunflare" cranked their electronic gauge up a few notches and paved the way for Kraftwerk tribute "Computer Love." While not a personal favorite cover they do, after all the jumping around, it certainly was a nice opportunity to smoke a cigarette, enjoy some relaxing musical vibrations and take in the beautiful scene. I typically take advantage of these moments to take a look at my favorite men – while the Miller boys are normally lost in concentration, Mike Rempel's happy side-to-side gaze into the crowd (we think he's trying to catch as many blown kisses as possible) combined with Greenfield's infectious smile just fills me with even more love for these guys , if that were even possible. Before finishing the night with "Invincibility of Youth," the quartet took an interesting turn with 'hit single' "Spiritualize." This song has sounded drastically different at each of the four festivals I've seen it performed at this summer, and each time tops the next. It's no wonder it's THE fan favorite. Other song highlights from night one included "Spaghetti" (an older song that hadn't been played since 2006), "Malabarista" (a new song not even on the track listing for their newest album due out in a few weeks) and "Harps." [JamBase will have an interview with Mike Greenfield with highlights from Jesse Miller to run alongside the album release next week. The interview will include details about the festival, new album and b-sides].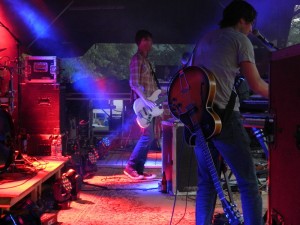 Back to the campgrounds we stumbled. Because of Ohio's middle school curfew, fans were left to their own devices to make good on their night – and most didn't stop until Sunday morning. An array of DJ tents sprouted up every camp block or so to treat us all with late night dance festivities despite the lack of an official entertainment source. Having been jaded by the sketchiness that defines Camp Bisco at 3 am, the crowd that Lotus attracts reminds you why you ever started going to festivals in the first place and makes you feel at home even though you have no fucking idea where your campsite is.
After bearing the 8 am sunshine blues at festivals like Wakarusa or Bonnaroo, Day Two really forced you to fall in love with the campsite if you hadn't already been infatuated by the time you drove in. Sleeping until almost noon, (most) of the crowd appeared well-rested and ready to turn up the volume and party for round two. You overheard big plans of letting all hell break loose because of the short festival stretch, and after a jolt to the senses dip in the quarry, fans mingled, shared stories of their summer adventures and slapped each other's babies.
Although I overheard parts of Big Gigantic at Wakarusa this summer, it was a first real experience for me seeing them at Summer Dance. Growing up playing the saxophone and drums, the music was easily relatable. With fast tempo and intoxicating beats intertwined with the inspiring musicianship of Dominic Lalli (producer/sax/keys) and Jeremy Salken (drums), Lotus found a great match to share their stage with. Both bands seem dedicated to the fusion of organic and synthesized music – a genre of music that I hope dominates the tired swarm of teenagers blasting dubstep at 9 am. My new family of friends and I enjoyed a late afternoon set of squealing saxophone notes, hula hooping and yoga on the beach before running back to the campsite for a few more drinks before the main act. It was ON!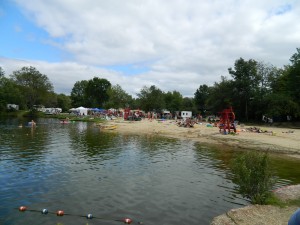 "Hammerstrike" got the night started off right with its coupling of Rempel's uplifting guitar melodies and Luke's funky keyboard notes — watching him juggle the guitar and his keyboard/synthesizer makes fire dancing look easy – and Jesse's raw bass riffs make you want to dance just a bit closer to your neighbor. Drummer Mike Greenfield kept the boys in check with his tight beats and kicked the crowd into overdrive. "Travel", "Suitcases," "Disappear in a Blood Red Sky" and a very rare "L'immeuble" took us as far back as 2002 but as per usual the guys kept it interesting with another cover for both sets of night two ("Film," an Aphex Twin song, and "A Three Legged Work Horse," a This Will Destroy You song) as well as "Bush Pilot," a track on the band's newest album set to be released September 13. For the most part, however, the second half of this incredible festival found the band catering to their fans by playing old favorites. Killing the festival with "Umbilical Moonrise," diehards were left with sound waves that lingered several days later – the perfect ending to the perfect end of the perfect summer. Really, just perfect.
During the start of night two's second set, Lotus announced that they were going to set off 250 Chinese lanterns. Unfortunately, one of them malfunctioned and wound up burning in a tree just above stage. Although these lanterns were a magnificent sight, I think the crowd was happy to sacrifice a few cheap thrills for the sake of keeping the stage (and the band) intact. Aside from the minor setback with the lanterns, the festival was well-organized for its size, had enough (relatively) clean bathroom facilities, and quite a few vendors. All in all, the only complaint are no beer vendors, the early curfew, and whomever was clever enough to make a pathway of glow sticks leading into a massive mud puddle after the end of the second night. The friendly staff, unpretentious band members and incredibly beautiful backdrop made this a weekend one will not soon forget. As far as plans for a Summer Dance V, it might be too early to say, but all signs thus far look promising.
Writers Note: The term "slap the baby" was something new to me, but was common lingo all over the campgrounds, and it just simply means you hold a bag of wine over your head, chug and slap that baby when you are done!
To view the FULL photo gallery which includes photos by Brian Hockensmith click here!