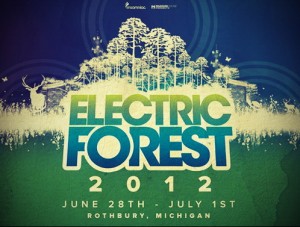 Electric Forest Stimulates All The Senses
 06.28.2012 – 07.01.2012 :: The Double JJ Ranch :: Rothbury, Michigan
Words by Jeanne Bettencourt and Michael Urban
Photos by: Brian Hockensmith
The beautiful 1,000 acre Double JJ Resort in Rothbury, Michigan, provided the perfect backdrop for festival goers this past weekend at Electric Forest Festival.  Starting in 2008 as Rothbury Festival, Insomniac and Madison House Events continually strive to offer not only an eclectic array of music and art performances but also promote sustainability and overall improvements to the environment (Rothbury won the Greener Festival award in both 2008 and 2009).  The festival took a one year hiatus in 2010 due to funding issues and was recreated in 2011 as Electric Forest after the ranch was bought by Progressive Resorts, LLC.
 Energy was high as cars slowly trickled past security gates and onto the grassy and slightly dusty campground fields Thursday afternoon.  Temperatures soared past 100 degrees in direct sunlight, making campsite setup and organization a little tougher than usual.  Rolling into the campgrounds one caught a first glimpse at the festival grounds – a medium sized Ferris wheel in front of the Tripolee stage.  Anticipation grew as fans got situated and met their neighbors, and a contest put on by the festival for the best campsite peaked creativity – canopies were lined with colorful tapestries, funky artwork and life-size cutouts of Snoop Dogg and Justin Bieber toting an unusually large blow up johnson.  Individuals of all shapes and sizes began the nonstop four day party and originality and a sense of community were in full-force.  The festival gates had not yet been opened, yet you had a sense that this was going to be a very special weekend you would not soon forget.
Once the festival gates were opened around 5:30 PM Thursday evening, we were free to roam the seemingly never ending gorgeous festival grounds.  Entering the grounds was usually a smooth and painless process – security at the gates was minimal and the line was never longer than a fifteen minute wait during peak hours.  Once inside, you were greeted by the Tripolee Stage and Ferris wheel.  Next up you could either walk to the Ranch Stage (one of the main stages) or cruise on over to the Wagon Wheel Stage, located right next to one of the ranch's lakes.  The Wagon Wheel Stage featured both indoor and outdoor party spots, with sound quality excellent both inside and out.  The Ranch Stage was surrounded by an enormous field dotted with trees and a slight slope making the stage easily viewable from most spots in the crowd.  Wandering further into the grounds led you to the most spectacular commodity of the event: The Sherwood Forest.
It is incredibly difficult to articulate the magic created by the 'Forest'; the massive amount of light instillations in their own rite was breathtaking but only touches the tip of the iceberg.  The forest was filled with thousands of hammocks tied to skinny pine trees, with two large pathways leading from the Ranch Stage to the Sherwood Court Stage.  Amidst the trees were several different art instillations including a giant crazy four sided clock in the middle of the madness.  Wander further you found several bars illuminated by black lights, maze-like constructions created out of spandex material, and performance artists including several very attractive girls dressed as mimes.  Two stages were located within the forest – the festival's official Forest Stage, which despite its lower sound quality allowed you to get your groove on among the craziness in the woods, or the Sollun stage, a solar powered stage inside of a pirate-ship like construction.  Day or night, one could spend hours wandering through the forest, never ceasing to be amazed by the quality and quantity of impressive artwork and obvious planning that went into creating this wonderful environment.  The Sherwood Forest was hands down the highlight of everyone's weekend.
Thursday :: 06.28.12 :: Highlights
Borgore | Ranch Area
As we approached the Ranch Area mid-evening Thursday, Asaf Borger (or Borgore) greeted us with filthy dubstep and not-so-subtle visuals.  The Israeli producer/DJ has a large following in Europe (especially in the UK), but his heavy sound and rare approach to dubstep (including live singing of his lyrics) had the American crowd raising hell tonight.  He showcased his diverse style as he pounded out original tracks such as 'Ice Cream' and 'Nympho', then switching it up with remixes of Kaskade, Flux Pavillion and  Passion Pit's 'Sleepyhead'.  He ended out the set with Skrillex's 'Cinema', putting his own spin on the tune by swapping 'cinema' for 'cinnabon'.  Haters might think Borgore ruined dubstep, but don't knock it till you experience his energy live.
EOTO | Sherwood Court
Thursday night raged on as EOTO (originally an acronym for 'End of Time Observatory', now just EOTO, meaning 'good sound' in Japanese) joined their gorgeous lotus flower stage after a stellar performance by Conspirator at the Sherwood Court.  Made up of Michael Travis (DJ/guitar) and Jason Hann (drums/freestyle rapping) of the String Cheese Incident, the duo has been pioneers of electronic music by performing improvisational synthetic and organic music, refusing to use prerecorded loops.  Their sound constantly shifts, incorporating music styles from all points of the spectrum, including sludge metal and punk riffs.  Their performance included Hann freestyle rapping to Lucacris' 'Get Low',  and an uplifting rendition of 'Electric Avenue' (nicknamed 'Electric Forest Avenue').  Their magical performance left fans stunned and was truly a highlight of the weekend.
Beats Antique | Sherwood Court
The romance of several types of world and electronic music fed festival goers an inspiring and spiritual experience during Beats Antique's set Thursday night.  Producers David Satori and Tommy Cappel coupled with seductive dancer Zoe Jakes fuse the cultures that inspire their music, using several live instruments (including the violin, clarinet, and kalimba) and dance techniques to send their audience on a sensory journey across the globe.  Captivating the crowd with beauty and belly dance, Zoe really captured my eye as she performed to a new song in a masked leotard using vibrant blue feathered wings.  A few song highlights included a remix of Bassnectar's 'Voodoo' and their own 'Egyptic'.  A tribal-like ritual ended the evening as the band and dancers performed in animal masks – at the peak of the song the dancers ripped off their masks only to reveal that they were the female rap group Hottub, as they bounced words off one another and around the stage.
Friday :: 06.29.12 :: Highlights
Break Science ft. Chali 2na | Sherwood Court
Friday evening on the Sherwood Court the Brooklyn based drummer/producer duo consisting of Adam Deitch (keyboardist/producer) and Boraham Lee (drummer) teamed up with Chali 2na (Charles Stewart), a rapper/hip-hop artist formerly associated with Jurrasic 5 and Ozomalti.  Although he did not perform on every song, Chali 2na's presence was welcomed and the fusion between the two acts produced a diverse, upbeat set that kept the large crowd dancing despite the hot temperatures.  Break Science does a wonderful job sampling blues, R&B, funk, and jazz amidst a trip-hop/dub style electronic sound.  With just the perfect amount of wobble, Break Science proved that dubstep can have some soul.
String Cheese Incident | Ranch Area
The band that birthed Electric Forest, the String Cheese Incident, performed 3 of the 4 nights over the weekend.  I decided to catch the entire set Friday night, and was extremely impressed with how much this band had grown since I last saw them in 2007.  The Colorado based group was founded in 1993 by drummer/percussionist Michael Travis, guitarist Bill Ivershi, pianist/organist Kyle Hollingsworth, and bassist Keith Mosely, and auxiliary percussionist Jason Hann was added a few years later.  The diversity that this band possesses is immense; throughout the 2 set performance Friday evening they took us through a collection of songs demonstrating just that.  Ranging from bluegrass, rock, electronica, funk, jazz, to even reggae, their sound never stops evolving and showcases their artistry.  Set starter 'Smile, Close Your Eyes > Orange Blossom Special' allowed the boys to really jam, but during the second set they showed off their electronic side with 'Valley of the Jig' and dubstep song 'Desert Dawn'.  The band had 2 more excellent performances throughout the weekend, allowing several guests to join them on stage Sunday night.
Saturday :: 06.30.12 :: Highlights
Nobody Beats The Drum | Forest Stage
Dutch electronic trio Nobody Beats The Drum wowed concert goers with two performances this weekend – the first being a DJ set deep inside the Sherwood Forest Saturday night in between SCI and STS9's performances.  As we wandered towards the stage you could hardly see the crowd but as a stage light or laser from the forest hit a tree in the middle of the crowd you could tell that there was a massive party going on.  Even though the sound quality from the stage was less than desirable, these three dudes had the forest rocking.  With an excellent fusion of breaks, electro, hip-hop and more, Sjam Sjamsoedin, Jori Collignon and Rogier van der Zwagg (don't even bother trying to pronounce these correctly!) performed an eclectic mix of their own material and covers.  And while their DJ did include other artist's material, the group prides themselves on using their own music during their live performance.
STS9 | Sherwood Court
Sound Tribe Sector 9 held their second performance of the weekend Saturday evening at the Sherwood Court.  These artists truly are adaptable and catered to their crowd's needs by playing two heavily electronic sets.  Self-described as post-rock dance music, the quintet (Hunter Brown, Jeffree Lerner, David Murphy, David Phillips and Zach Velmer) put more emphasis on group rhythm rather than individual solos.  The experimental musicians do a fantastic job of incorporating electronic, funk, jazz, drum and bass and hip-hop into their sound and put on a fantastic light and visual display.  There were a few lulls in the set but 'Inspire Strikes Back', 'When The Dust Settles' and 'The Unquestionable Supremacy of Nature' got the crowd moving and overall was an incredibly fun and dance-worthy performance.
Girl Talk | Ranch Area
I left Sound Tribe's set early to catch a little bit of Girl Talk's performance at the Ranch Area and I was greeted by a rendition of a Beatles song.  I happily accepted the change of pace despite my preconceived notions of the DJ and distaste for mash-ups.  Girl Talk (Gregg Michael Gillis) began his career in 2007 and has been the focus of a lot of controversy because of his unauthorized use of music samples.  For someone that I had originally wrote off as a DJ, I was extremely surprised at how much fun and creative his mash-ups were.  His set was exciting and entertaining, and the crowd was absolutely soaking it up!
Sunday :: 07.01.12 :: Highlights
MiMOSA | Tripolee
Just as the sun started to set for the last time at Electric Forest, DJ Mimosa took the Tripolee stage next to the entrance and the Ferris wheel. Tigran began his career producing at the tender age of 17, and has taken the EDM scene by storm.  As he constantly defies expectations, his unique sound incorporates a lot of trap mixes.  The San Francisco native got the relatively young crowd going with original track 'Dirty Money' and a remix of Waka Flocka Flame's 'Hard In The Paint'.  The absolute highlight of his performance, however, was an intense remix to the infamous 'Sandstorm'.
Bassnectar | Ranch Area
Whether you love or hate dubstep, it's hard to deny that Bassnectar puts on a spectacular show.  His incredibly visually stimulating screens, eclectic catalogue of songs and intense energy provide an experience one should try at least once before ruling out this DJ/producer just because he's gained a lot of popularity for teenagers.  Bassnectar fans poured into the Ranch Area and the field was as packed as I had seen all weekend.  Lorin Ashton of Santa Cruz, California, got his start in the late 90's and has evolved into one of the biggest freeform and dubstep artists in the country.  His music is amorphous and ever-changing, and his influences range the spectrum.  It was clearly evident this evening that one of those influences is hard/punk rock as he performed his 'Pennywise Tribute' and a new tune using a Motorhead song.  His performance was stellar and the crowd's energy was at an all time high for the weekend.
Big Gigantic | Sherwood Court
The fact that Bassnectar went over his 12:30am time slot by about 15-20 minutes only delayed what we all knew was coming and it was finally that time, the last set of the weekend. This sometimes haunting task was put on the shoulders of Big Gigantic. After Bassnectar left the stage Domic Lalli's sax was clearly audible through the Sherwood Forest and it was evident that the party was not over just yet.  Big Gigantic closed out the festival on the Sherwood Court to a massive crowd that brought each and every person with any energy left out to give it their all and Big G did not disappoint. Raised up in their new LED cone set ups the duo of Domic Lalli and Jermy Salken kept the energy sky high throughout their hour and a half set. With popular mainstays such as "Lucid Dreams" and "Sky High," new favorites like "Nocturnal" and "It's Goin' Down" and a remix of Kanye West's "Get 'Em High", everyone in the massive Sherwood Court concert bowl, along the edges of the Sherwood Forest and beyond were grooving to this duos exotic, entrancing style of music and that will keep you engaged while sane at the same time. Big G did an excellent job of closing out the festival with their intense energy and groovy tunes.  Bravo boys!
There is so much that can and should be said about the Double JJ Ranch, Electric Forest Festival and the Sherwood Forest, but I have no doubt Brian Hockensmith's stellar photos will give you better visual insight into what went down during the magical, yet unseasonably hot last weekend of June in Michigan. Without a doubt when someone asks me about the festivals I have attended this summer the first thing out of my mouth has something to do with the breath taking Sherwood Forest. Andy Carroll, the mastermind behind String Cheese's lights, was the main art director and designer of the Sherwood Forest and has gone above and beyond all expectations. I was utterly blown away each time I walked through the magical creation, speechless until I could gather my thoughts.
While many still yearn for the old Rothbury Festival and more jamband oriented line ups of the 2008 and 2009 incarnations I think Madison House and Insomniac Events are starting to get the idea that jambands and heavy electronic can mix if carefully picked and placed in ways that all can enjoy.  The festival was a unique, awe-inspiring experience, and I cannot wait till next year.  See you all in the Sherwood Forest in 2013!