Featured on Jambase.com & Jambands/Relix.com
Lotus Heats Up the Snowy Northeast for their 3 Night New Year Run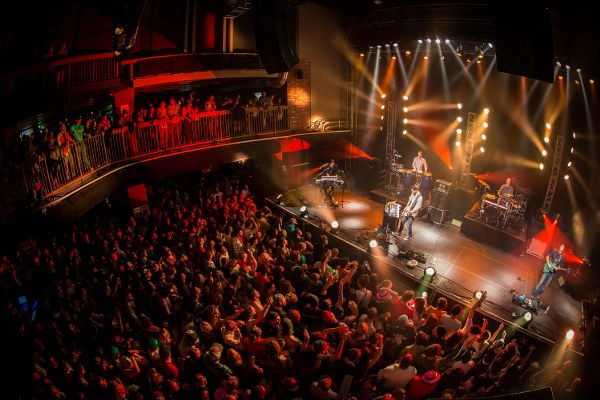 Words By:  Jeanne Bettencourt and Michael Urban
Photos by: August J – Full photo gallery below!
            Whether it was the hugs being doled out, the warmth radiating from the family of fans, or the heat being brought by the electro jam quintet Lotus, the cold temperatures and heavy snow were hardly noticed amongst the blissed out crowds during their sold out 5 night New Year celebration.  The sense of cocmmunity and family-like togetherness paired with the best sets I've seen performed by the band were worth every mile traveled and penny spent this weekend.  Starting off in Chicago the boys played two nights at the Riviera Theatre, and then departed for Pittsburgh, performing a single night at the city's Mr. Small's Theatre – a church cathedral turned crazy concert venue.  Leaving Pittsburgh at 3 AM that same night they cruised over to Baltimore, MD, finishing off the run at Ram's Head Live, a climactic two night experience that has left all in attendance some of the happiest hippies this side of the Mississippi.
Fortunate to find myself at the latter 3 nights of the tour, I was even more so impressed by the loyal few attending all 5 nights.  Chicago native Ross Citrin was one of the lucky champions battling the snow, flying out of his resident city of New York to Chicago, down to Pittsburgh and then drove the final stretch to Baltimore.  With very few repeats over the course of the entire week, he was treated to a wide array of songs old and new, and is in agreement with most that the final shows this weekend were the top 3 Lotus shows to date.  New Year's Eve was also a wonderfully happy experience for newly engaged love-birds Genevieve Rose and John Jay – the lucky lady was proposed to during elusive song 'L'immeuble'.  The weekend was a joyous way to ring in 2013, and it warmed my heart to watch the magnetic band bring those that share the love for their music and aura together.
Lotus' uplifting and dance-easy music attracts fans of all kinds, and as usual they put the crowd at ease as we settled into the groove at my first show of the weekend at Mr. Small's Theatre.  Walking up to the address listed for the venue, our group started to worry that we had copied the information incorrectly – stained glass windows and a large steeple were cause for concern that we were headed for mass – until of course we spotted a line of folks with dreadlocks, flat brimmed hats and goofy grins on their faces.  The building might not have been a church anymore, but what occurred inside was spiritual in nature.  Indoors was tiny, and the sold out event had the room at capacity with 650 crammed up in each other's business.  The stage barely fit the guys, but that didn't stop them from bringing their A game, with a set list clearly dedicated toward their older, loyal fan base.  A few of those that I spoke to that had been to the shows in Chicago including the band's official merch rep Sean Garahan and lead guitarist Mike Rempel noted that while excellent performances in Chicago on the band's part, the band really kicked things into high gear at Mr. Small's.  Several older songs were thrown into the mix including 'Did Fatt', 'Sunrain', and the sexy and personal favorite 'Spaghetti' that shows beautifully the romance between bass and guitar (and Rempel's solo makes us ladies weak in the knees).  The tightness and synchronicity of all five musicians was easily noticeable and you could tell they were all having a blast.  Percussionist Chuck Morris shines on 'Wax', a song among many others that proves what an asset he is to the band since his recent return.  A mystical and mesmerizing '128' closed out the evening and as usual the band showed their undying loyalty to their fans by them modestly joining us in the crowd.
The fun didn't stop there, not by a long shot.  Many of us dancing the night away at Mr. Small's made the journey to Maryland and a sea of hippies swarmed the streets of downtown Baltimore.  Hotel parties, blocks lined with strip clubs, and a tight-knit sense of community made the following two nights extremely unique and reflecting back the feeling is unanimous.  "Lotus is so much more than a band.  Lotus has served as a thread of connection and love, stringing each of us together to form this beautiful family that has been made. When I was at my first Lotus show four years ago, I was surrounded by friends. And now, when I looked around on NYE, all I saw was family", Jenna Switzer of Boulder, CO remarks.  Pat Williams adds, "The family love from fans toward the band was in constant flow with the love that the bands shared for their faithful fans. Pure love and energy."  It simply is remarkable how transforming Lotus' music is, and tribute must be paid to the strength of the bond these amazing men have created to us and to each other.
Night one at Ram's Head Live in Baltimore brought a much bigger crowd than the night before – roughly 2,500 joined Lotus and opener Moon Hooch, another electro jam trio consisting of 2 saxophonists and a drummer, describing themselves as 'cave music', similar to house but 'more wild, more free, more natural to live in'.  The band also opened for Lotus in both Pittsburgh and the second night in Chicago.  Lotus opened up the first set of the night with 'Kodiak', a song off their newest album titled 'Build', set to release February 19th.  They also showcased 'Massif', a single already available on soundcloud for you to preview.  The crowd got singing Beastie Boys lyrics during 'Lead Pipe' and bassist Jesse Miller got us all sinking down in our knees with his sultry bass lines.   Luke Miller on keys and guitar really gets the jaw dropping and eyes widening on tunes like 'Travel', and 'Massif', making for a cerebral amusement ride combined with their fantastic light show.  The robotic and dance yourself silly 'Bellwether' got started as drummer Mike Greenfield hit the opening notes of what has become somewhat of a Lotus staple, making a triumphant return after 'Umbilical Moonset'.  Greenfield's drum section during this song only adds to the incredible energy of the tune and he had the entire crowd bouncing from one wall to the other.  The encore included a cover of 'Strawberry Letter 23' a song written by Shuggie Otis and made famous by The Brothers Johnson, followed by 'Invincibility of Youth' before we all hurried back to our hotels to reminisce on the night and enjoy the 'strength of weak ties' amongst the friends made as a result of our favorite band.
The final performance of the weekend still has me awe-stricken – the evening was jam packed some of their best and most liked songs.  The highlight of the evening was the countdown to midnight and 'Umbilical Moonrise' (including 'Auld Lang Syne') starting off 2013 with tears of joy streaming down my face the entire song.  New Year's Eve was definitely their night to shine, and lead guitarist Mike Rempel stole my heart as he effortlessly glided through songs like 'Spiritualize', 'Sid' and 'Moonrise', with his facial expressions and obvious love of his instrument making him simply a joy to watch.  The guys revisited '128', and 'Plant Your Root' received a warm welcome after being teased the night before, highlighting Jesse's catchy bass lines in the breakdown as they are coupled with Rempel's guitar effects.  Lotus paid tribute to their long-standing fans with rarely heard 'L'immeuble', 'Wooly Mammoth', and 'Colorado'.  Other song highlights included 'Tip of the Tongue' early in the first set and an impressive 'Greet the Mind' following 'Moonrise'.  The band did an excellent job keeping their set well-rounded and fresh throwing in songs like 'Uffi' off their new album as well as 'Cannon in the Heavens', a hip-hop version of the song 'Golden Ghost'.  They also opened with newer song 'Harps' and ended the show with 'Bush Pilot', a tight, well put together, and excellently executed version as the boys hit each section change with ease.
Overall, the weekend was filled with top notch music, lasting friendships and ear to ear smiles, and will have a lasting impression on us all for a lifetime.  The band will be taking a few weeks off before they begin their winter tour on January 24th at the Higher Ground in Burlington, VT.
12/29/12 Mr. Smalls – Pittsburgh, PA
Set 1: What Did I Do Wrong, Lucid Awakening, Did Fatt -> Scrapple, Wax -> Zelda -> Wax, Let Me In
Set 2: Blacklight Sunflare, Juggernaut, Gilded Age, Sift, Sunrain -> Flower Sermon -> Ghosts n' Stuff -> Flower Sermon -> Sunrain
E: Spaghetti -> 128
12/30/12 Rams Head Live
Set 1: Kodiak, Nematode, Neon Tubes, Kesey Seed, Lead Pipe -> The Oaks, Travel -> Hammerstrike
Set 2: Massif, Plastic Lemons, It's All Clear To Me Now -> Intro to a Cell -> Dowrn, Caywood, Bellwether -> Umbilical Moonset -> Bellwether
E: Strawberry Letter 23, Invincibility of youth
12/31/12 Rams Head Live
Set 1: Harps, Tip of the Tongue, Turquoise, Sid -> We Are Now Connected -> Drums -> 72 Hrs Awake, L'immeuble -> Jump Off
Set 2: Spiritualize -> Count Down -> Umbilical Moonrise -> Aue Lang Syne -> Umbilical Moonrise, Greet the Mind, Uffi, Wooly Mammoth, Plant Your Root -> Spiritualize, Cannon in the Heavens, 128
E: Colorado, Bush Pilot