McDowell Mountain Music Festival | Phoenix, Arizona
SUNDAY Coverage | 3.24.2013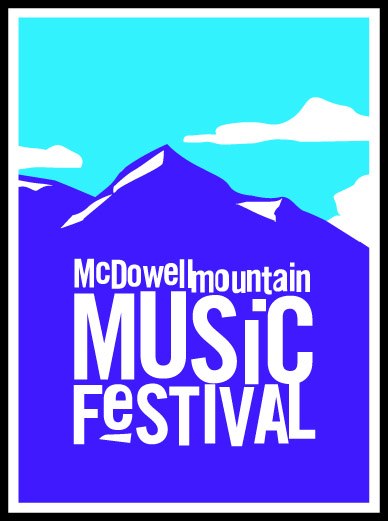 Words by: Ali Kramen
Photos by: Zachary A. Radel
It was a sun-drenched, sizzling summer-like day on Sunday, March 24 as a couple of friends and I pulled up and parked near Margaret T. Hance Park in downtown Phoenix, AZ.  A born and raised East Coaster from the suburbs of Philadelphia, I had flown out to the West Coast for a week to visit friends in Tucson and embark on a 5-day live music mission spanning from Tucson, AZ to Los Angeles, CA.  That mission ended that Sunday with the McDowell Mountain Music Festival.  I was only able to make it to the festival for its last of three days of music, but as much as I wish I had gotten to see popular indie rock group The Shins and Philadelphia-based hip hop/soul band The Roots (who headlined the festival on Friday and Saturday, respectively), Sunday was arguably the day to catch if you could only make it for one.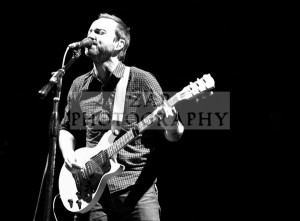 For the tenth year in a row, McDowell Mountain Music Festival brought a slew of talented, diverse music acts to the stage, all in the name of family based charities. This aspect makes MMMF somewhat unique on the music festival scene – all proceeds of the event benefitted Phoenix Children's Hospital, Ear Candy Non-Profit Music Organization, and UMOM new day centers (which provide shelter for homeless families).  Sponsor Deschutes Brewery, whose brews made up the beer list for the weekend, even donated all the money brought in by their beer (and given the combination of their beers' tastiness and the care-free, summer party atmosphere I can't imagine that the amount of beer sold was minimal).  I don't drink much, and I don't like "hoppy" beers (a number of the offerings were IPA), but the brewery's River Ale was pretty damn tasty and perhaps the perfect beer on that hot and sunny afternoon.
While the Dead-esque vibes of the JGB Band floated through the crowd, I explored the festival grounds.  Although the festival took place in the center of a city, it definitely didn't feel like it.  With two stages, a section of about twenty vendors of various both common and uncommon festival wares (including unique musical instruments), and a number of food trucks with offers from the standard fries and pizza to multiple kinds of gourmet grilled cheese sandwiches and homemade pies-in-a-cup, MMMF had all of the necessary components for a family-friendly festival experience.  The VIP section deserves mention – its green Adirondack chairs and a couple puffy lounge chairs provided comfortable seating to the right of the stage for those who wanted a ground-level view, and a two-tiered balcony, also to the right of the stage but directly beside it, provided a birds-eye view for those who wanted to get closer to the musical action.  Lunch and dinner, the tasty food provided by local restaurants, was included, along with water and Vitamin Water, and festival-goers could enjoy their food while still having a great view of the stage at large seated dining tables as well as smaller standing tables with umbrellas.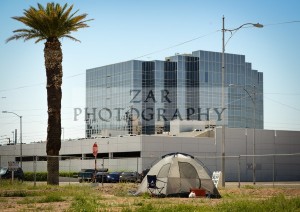 I made sure not to miss fellow Philadelphians Dr. Dog, who took the stage mid-afternoon.  The music of Dr. Dog perfectly fit the weather and mood.  Almost reggae or surfer-like at times, sometimes bluesy and soulful, yet other times folksy, but all the time radiating a purely rock-and-roll essence, the band is an eclectic mix that almost anyone can find a reason to enjoy.  They certainly brought the crowd to its feet, inspiring lighthearted dancing as beach balls flew overhead.  Their set put me in the perfect state of mind for the rest of the day.
Les Claypool took the stage next along with guitarist Marc "Mirv" Haggard as Duo de Twang. If you have never seen Claypool play live, do yourself a favor and check him out with Duo de Twang in April (if you are on the East Coast) or with Primus this summer (their 3-D tour will hit music festivals on both coasts and a slew of cities in between, as well as several cities in Canada).  Claypool has perhaps the fastest fingers of any bassist I have ever seen – even if the music of Primus and Twang isn't the type you normally dig, you can't watch this guy play without a certain level of awe.  On the bass he appropriately referred to as "the Twanger," Les got twangy on stage with Mirv covering a number of songs by the late Stompin' Tom Connors, referred to as the Johnny Cash of Canada.  The duo also laid down a uniquely cool, bluegrassy version of "Stayin' Alive" which had the audience cheering, laughing, singing and dancing all at the same time.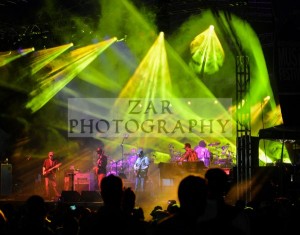 For the tenth year in a row, McDowell Mountain Music Festival brought a slew of talented, diverse music acts to the stage, all in the name of family based charities.
The insanely instrumental, neo-bluegrass group Yonder Mountain String Band took the stage as the sun began its descent, playing during sunset for what they deemed their first festival performance of the summer.  As a violinist, the sheer number and variety of string instruments implemented by Yonder has always gotten me excited, and this night's performance was particularly memorable.  Perfectly in tune and in step with one another, the band killed it with a number of summery southern twang jams.  Most songs channeled the bluegrass that lies at the heart of their musical effort; as they said on stage, "once a day, every day, it is bluegrass-o-clock."  I think the clock struck bluegrass-o-clock more than once that night, and this disappointed neither I nor the rest of the crowd as we danced to the folksy rock while the sun disappeared beneath the horizon.
…And then there was Umphrey's.  One of the behemoths of the jam and livetronica scenes, Umphrey's McGee is part jam, part prog rock, part hard rock, with a sprinkling of everything in between and wholly awesome overall.  Long-time UM fans know that you never really know what you are going to get at a show, other than complete satisfaction.  Tonight was no exception.  The skillfully improvisational sextet not only played perfectly on point, but threw in completely unexpected but ecstatically welcomed surprises – bassist Mike Bendy sat in on a sexy-smooth and fantastically funky "In the Kitchen," and the band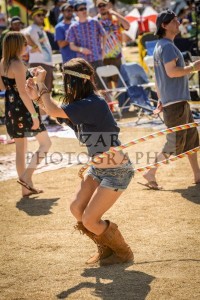 welcomed onto the stage jazz fusion guitar virtuoso Stanley Jordan for an encore featuring "Glory" and "Making Flippy Floppy," with Jordan playing a considerable tease of The Beatles' "Eleanor Rigby."  The lights, of every color and almost otherworldly, impossibly brought a near-perfect set to even greater heights.
As the rainbow of light beams shone onto the crowd during UM's encore, it was plainly clear by the scores of smiles and joyful movement that everyone would leave happily content that night, having been completely satiated, mind and soul, by one hell of a musical performance.  I surely left that way.  A perfect end to a perfect day of music, I would say my first music festival experience of the season was quite a success.  Thank you MMMF!  Festival Footprints wishes you many successful years to come.