Camp Bisco XII Preview

 Tickets – $185 + fees
Indian Lookout Country Club – Mariaville, NY
July 11 – 13, 2013
Words by: Dan Diaz
Photos by: Dave Vann
Spring has finally arrived and that means it's time to start planning for the Summer Festival Season! One festival in particular, that I always make sure to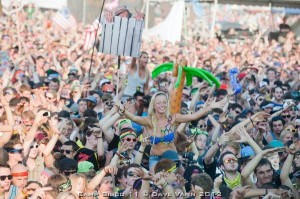 keep my weekend free for, is Camp Bisco. Now into its 12th year, Camp Bisco has released its strongest and most eclectic lineup to date. But before we dwell on that, let's take a little trip back in time to see where this all began and how it's now become one of the premier festivals in the country.
The beginnings of Camp Bisco, of course, start with its founders, Philadelphia based Trance-Fusion band, The Disco Biscuits. They started it as a way to showcase their music in proper form (which is at night with a heavy dosage of lights, led screens, and lasers) while inviting acts (both bands and DJ's) they felt were "ahead of the curve" musically. The first Camp Bisco was in 1999, at Tune Town Campgrounds in Cherry, Tree PA, with an attendance just under 1,000. Over the years it has bounced around from different sites (including Mountain Jam's current home of Hunter Mountain,NY), finally settling down in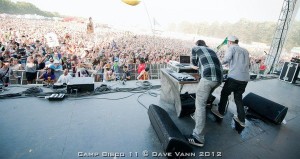 2007 at its current home of the pristine Indian Lookout Country Club in Mariaville, NY. Every year they have surpassed the previous in attendance, with the most recently Camp Bisco XI topping out at over 30,000 people.
As pioneers in the festival scene, by fully embracing both the organic jam side and blending a variety of digital goodness into a weird yet happy family of music, there has always been something for everyone and they continue to push the boundaries of what a typical festival should be like. And the lineups have become even more top heavy with such acts as LCD Soundsystem, The New Deal, Aeroplane, Dada Life, Major Lazor, Cut Copy, Ghostland Observatory, Big Gigantic, Crystal Castles, Shpongle, Thievery Corporation, Dr. Dog, Bassnectar, Pretty Lights, Skrillex, Rusko, Lotus, STS9, Nas & Damian Marley, and Amon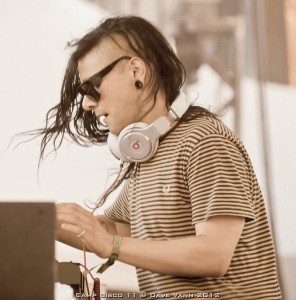 Tobin, gracing the stage.
Looking ahead to this year it seems that once again the guys over at MCP Productions out did themselves. As a massive Biscuits fan, six sets is enough to get my fill (hopefully a Tractorbeam sound check, if I'm lucky), but tossing in my next three favorite bands: Lotus, STS9, and Umphrey's McGee…well now I'm just smitten. And they really brought the heat with the headliners, inviting back Bisco veteran Bassnectar, and first time visitors Passion Pit, Animal Collective, Flux Pavilion, and the genre setting legend Squarepusher.
Of course though, what most people talk about when referencing Bisco, is the dance tents and late night. This year they are being hosted by This Song Is Sick (music blog/site based out of Boulder), French Express (UK House/Nu-Disco label managed by the legend Pete Tong), and, naturally, the real monster OWSLA vs. Boys Noize Records, which is causing many to predict a surprise Dog Blood set (Skrillex &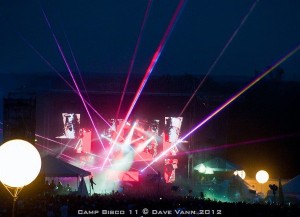 Boys Noize).
Since I consider myself a veteran of Camp Bisco, I do want to offer some sage advice as the weekend nears. We have all heard the negative nancies and haters who bash this festival for a myriad of reasons. As someone who has seen both sides, I truly believe, like any festival, it is about the company you keep and what you do while there. We are all adults and should take responsibility for the stupid shit we do. If you are going to put anything in your body, make sure you at least know whom you are getting it from and what you are getting. Always, always, always stay hydrated, make sure to eat at least twice a day, to keep those blood sugar levels from tanking, and make sure to get some rest, as hard as it may sound , and also go easy on seeing "every" set. Usually the best ones are the acts you didn't plan on seeing (i.e. last year with Virtual Boy). Lastly, have a great time and keep your friends close, because no one wants torage a festival solo.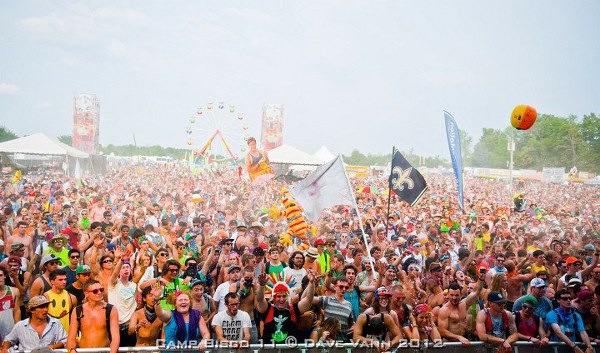 Headlining Acts to See: The Disco Biscuits, Bassnectar, Passion Pit, STS9, Umphrey's McGee, Lotus, Boys Noize, Squarepusher, Madeon, Destroid
Other Acts to See: Aeroplane, Boombox, Break Science, Cherub, Chris Malinchak, Cosby Sweater, Digital Tape Machine, Dirtyphonics, Eskmo, Flosstradamus, Gigamesh, Govinda, Grimace Federation, Heroes X Villains, Koan Sound, Manhatton Project, Moon Boots, Nadis Warriors, Perseus, RL Grime, Ryan Hemsworth, The Works, Zoogma