Electric Forest Festival Preview
Gate Tickets- $259 + fees
The Double JJ Ranch – Rothbury, Michigan
June 27 – 30, 2013


Words by: Justin Ciccone
Photos by: Brian Hockensmith
Returning to Rothbury, MI for the third year in a row, Madison House and Insomniac Events put on more than your average festival. Electric Forest is a large-scale community sustainability project that brings people together through music and art. They also happen to create a forest full of fantasy, and the Double JJ Ranch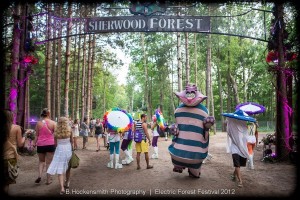 provides the perfect setting for an event of this caliber. Multiple stages, lakes, access to 'Goldrush Water Park,' 'Thoroughbred Golf Course' with a full 18 holes, horseback riding, and glow-in-the-dark disc golf course, among other amenities, make this location great for people of all ages. Whether you're bringing your family, your significant other, friends, or maybe you're making the trek all by yourself, Electric Forest will provide you with days of entertainment.
"If you bring an open mind and open heart, the energy created deep inside the forest will take care of the rest."
The festival staff has worked diligently to make every nook and cranny as interesting as possible, to captivate people from all walks of life. Amongst others, the big attraction that has given Electric Forest its glamor is the 'Sherwood Forest'. Promised to be bigger this year it's an ever-changing environment located at the heart of this festival – this is where the action is. The 'Electric Garden' will be a sensational addition this year- literally, forty massive, neon glowing flowers with petals that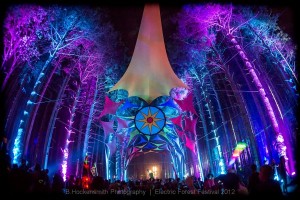 react to human touch. Day or night you will wander around only to be dazzled with what the staff and volunteers have put together. By day, Sherwood Forest is shaded and full of surprises, like various art installations, hammocks hanging from tree to tree. It's a place to relax. After sunset, the forest comes alive with grandiose lighting, acrobatic dancers, a secret stage hosting surprise performances, drum circles, and dancing. When you tell your friends about your experience at Electric Forest, there's no doubt 'Sherwood Forest' will be a big topic next to your favorite musical performances.
Looking past the obvious catering to the electronic music world(hence the name), Electric Forest puts together an eclectic blend of genres with past performers ranging from Tiesto, Bassnectar, STS9, Umphrey's McGee and more. Having a wide array of electronic and jam is essential in today's festival market and Electric Forest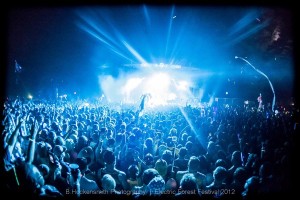 does it well. This year is no different with the folks at Madison House and Insomniac bring together Pretty Lights, Knife Party, Passion Pit, Lotus, Dispatch, Greensky Bluegrass and festival staple The String Cheese Incident just to name a few. Whether you like funk, bluegrass, one of the various electronic genres, or any combination, there will be music to keep you and yours entertained throughout the weekend. Make sure to pay attention to the music schedule which will be released soon. Due to multiple stages and the vast number of artists, there tends to be some overlap, something that is hard to avoid at an event of this caliber. Lots of planning goes into who plays when so CHOOSE WISELY!! If you're like me, you've already picked the "must-see bands", but be sure to check out some names you've never heard of. That's what this fantasy festival is for – exploration.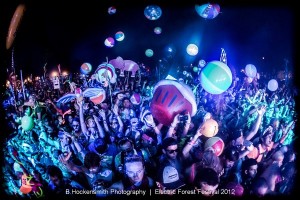 I doubt I'll be able to get around the entire venue and campgrounds in a mere four days, especially with 2013 being my first year in attendance. I've traveled to other festivals around the country and by the end of every season, I've always regretted not making it to Electric Forest. This year is sure to be different. Remember to take care of your campsite, respect the staff, recycle what you can, and look after your friends. It's one of the biggest festivals of the season. Prepare for four days of camping in the elements. If you bring an open mind and open heart, the energy created deep inside the forest will take care of the rest. I hope to see you all there, ELECTRIC FOREST OR BUST!!!
2013 Electric Forest Line-up
The String Cheese Incident(3 shows)  Pretty Lights  Passion Pit  Empire of the Sun  Knife Party  Above & Beyond  Dispatch  Lotus  Benny Benassi  Yeasayer  Beats Antique  Grizmatik  Madeon  Tommy Trash  Morgan Page  A-Trak  Grimes  HOLY GHOST!  Nervo  EOTO  Railroad Earth  Headhunterz  Trombone Shorty & Orleans Avenue  Kill the Noise  Baauer  Emancipator  Noisia  3LAU  Michal Menert  Just Blaze  RL Grime  FEMI KUTI & The Positive Sport  SuckerPunch  Danny Brown  Greensky Bluegrass  Digital Tape Machine  Future Rock  The Polish Ambassador  The Werks  Treasure Fingers  BoomBox  Clockwork  Anna Sia  Craze  Le Castle Vania OLIVER  Orchard Lounge  Jeff Austin & Friends  Eskmo  Eliot Lip  Pigs on the Wing  Cyril Hahn  Reptar  Nick Catchdubs  A Tribe Called Red  No Regular Play     The Pimps of Joytime  Ryan Hemsworth  Lane Herbstrong  Doldrums  Nigel Hall  Quixotic  Lynx        Robert DeLong  Delhi 2 Dublin  Up Until Now  Heliopter Showdown  Russ Liquid  Moon Hooch Dopapod  Shreddie Mercury  LowRIDERz  Milkman  The Main Squeeze  Samo Sound Boy  Twiddle  Mutrix  The Floozies  Tumbleweed Wanderers  DVBBS The Stepkids  Beard-o-Bees  Luke the Knife  Manic Focus  The Nth Power  Party Supplies  Rosin Coven  Cosby Sweater  Christian Rch  Thriftworks  Vokab Kompany  Motion Potion  Bestfriends  Dustin Thomas  Munson Meeks  Sam Klass  Jessijem n' the Infamous Crotch Kickers
MORE ARTISTS TO BE ANNOUNCED