Camp Bisco Music Festival :: Indian Lookout Country Club :: Pattersonville, NY
07.11.13 – 07.13.13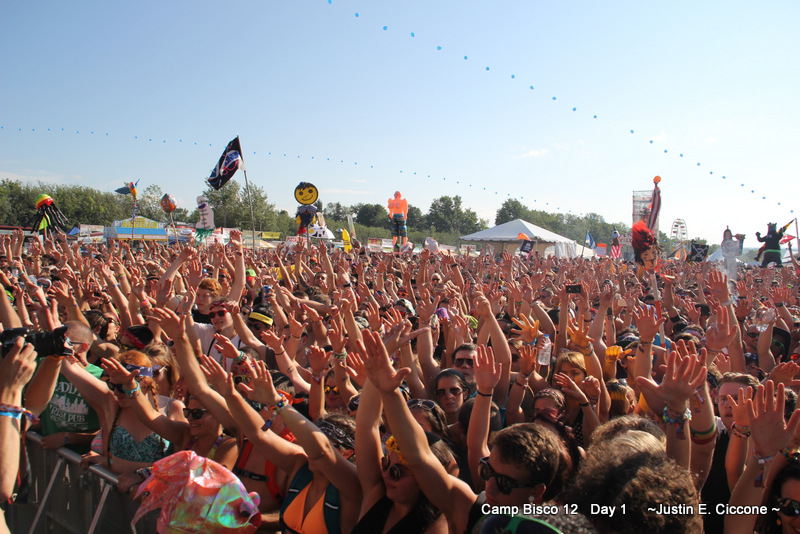 Words by: Dan Diaz
Images by: Zach Teator & Justin Ciccone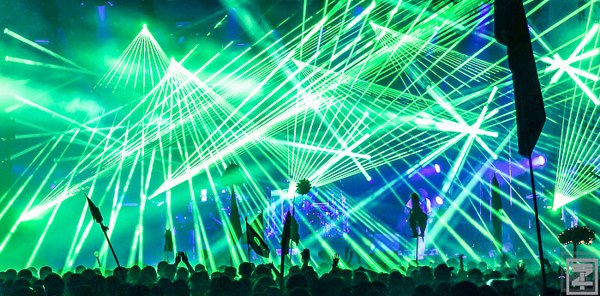 Before stepping foot on to ILCC's property this year, I already knew that this Camp Bisco was going to be something special.  Needless to say I was not disappointed in any sense of the word.  My experience as my third time going to Camp Bisco was by far the best I have had since going.  I was fortunate enough to afford VIP passes this year allowing me and my massive crew out of West Chester, PA to kick it like no other.  Leaving home around 8 pm on Wed we finally arrived at the gates around 1:30 am having the sweet pleasure of skipping the massive traffic lines (yes I heard up to 9 hours for some…ouch).  Once through the gates, the new set up was obvious with the two dance tents being moved to where the main stage used to be extending the music area by almost double.  Given the time we got in we set up camp right behind the B.I.G. tent and tried to get some rest before the madness was set to begin tomorrow.  Eyes wide open, we all laid awake anticipating what was surely going to be an epic weekend.
Thursday 07/11/2013
Many said that the best day for music may have been the first it was a heater from start to finish.  We all woke up early and cooked a massive breakfast to ensure we had our calories to burn for the non-stop get down party that was about to ensure.  After gathering our strength, a few cocktails, and putting on our dancing shoes we finally made it out to the festival grounds around 1 pm.
Twiddle ~ Main Stage 2 (1:15 pm – 2:15 pm)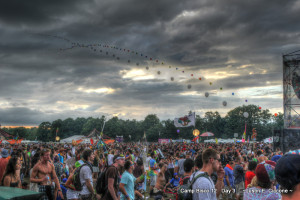 Being the first set at Camp to see is a pretty big honor and after hearing lot of hype about these guys out of Vermont we were stoked.  All I can say is we were  certainly surprised at the level of talent that they brought and not letting the big stage be too much for them.  A great blend of Jazz, Bluegrass, Rock, with a touch of heavy handed Funk, they got everything started on the right foot.  They also did a great rendition of Daft Punk's – Robot Rock with the whole set being free for download on Archive (I highly suggest getting it).  Now I can add another great band to my list of who to catch when they run through our area.
The Manhattan Project ~ Label Tent (2:15 pm – 3:30 pm)
What can I say about this set that didn't speak for itself while there?  I have seen this duo perform from their initial creation, beginning in the small night clubs of Philly, to a show of maybe fifty people at Camp 10, to their performance at Camp 12, where they packed the Label Tent with their many fans.Touching all their heavy hitters (including their cover of the Halloween movies theme song) 1984, New World Anthem, and off their new EP the banger Endless Nights.  They have become true professionals and it has been an absolute pleasure seeing them over the years come into their own as artists.  After we headed back to the camp site to grab dinner and some rest before the night came.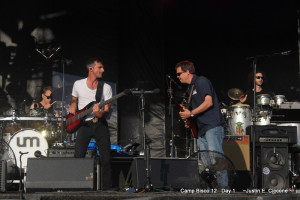 Umphrey's McGee ~ Main Stage 1 (6:45 pm – 8:00 pm)
UM began which many dubbed the "Mayan Holidaze" section of Camp as the next 3 acts make the annual trip down to the Mayan Riviera.  Due to an bassists Ryan Stasik's wife giving birth there was a quick switch in lineup leading to an ultimate super jam as David Muprhy (STS9), Marc Brownstein (The Disco Biscuits), and Brian Doherty (Digital Tape Machine) all split duties for the set.  Starting off with a great Wappy Sprayberry they kept it coming with Breathe, the Triiple Wide, and of course what super jam would not be complete without a Partyin' Peeps with Jon "Barber" Gutwillig (The Disco Biscuits) sitting in on guitar as well. They closed the set perfectly with a beautiful version of Booth Love ending a great day set.
STS9 ~ Main Stage 2 (8:00 pm – 9:30 pm)
Is there a more perfect group to play into the sunset? I certainly don't think so.  Tribe brought the heat taking the torch from UM without skipping a beat.  We were lucky enough that they brought along their Pyramid LED screens to complement their spaced out jazz fusion that they are best known for.  They had a awesome set list with some of my favorites getting played like Hidden Hand, Hidden Fist and Inspire Strikes Back.  Murphy didn't even seem fazed after already playing that day and the energy they were pumping out was contagious.  It was a perfect Segway into what a true treat we were all about to see.
The Disco Biscuits ~ Main Stage 1 (9:30 pm – 10:45 pm)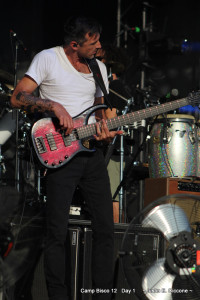 I am a self-admitted Disco Biscuit fiend and to say that I was bursting with excitement to finally see them play for the first time since NYE would be an understatement.  There was no run to Camp Bisco this year so practice time for them was limited despite still playing with their other side projects.  In the end it did not matter, the came, they saw, and the conquered Camp Bisco proving why it is their festival.  With the first notes of 7-11, it was known that this was the return of The Disco Biscuits that we have all came to know and love.  Flawless transitions, amazing improvisation, pulsating trance-fusion beats, and of course the new light set up with even more lasers (especially during that Abraxas…just wow) laid the groundwork for something truly epic.  I was honestly blown away with how they played with such tenacity that has not been seen in several years that many were saying that they were BACK!  Closing the set perfectly with I-Man they capped off the night sending us back once again to our site to rest up for the ever fabled late night in the dance tents
Squarepusher ~ Label Tent (12:30 am – 2:00 am)
Our crew decided to skip the first round of late night acts (Dillon Francis and Com Truise) to no fault of the artists as we simply needed our energy after what the day already threw at us.  We all made it back over to the grounds checking out the British electronic legend Squarepusher in the Label Tent.  I knew a little bit before heading over, but was told he puts on something that you have to witness to truly understand what he does.  Well those words could not have been truer as strobe lights and all he blasted the tent with his signature off beat, eclectic sound even slapping his bass for almost half the set.   Out of everything that weekend it was definitely the most interesting act I saw.  After a while though I will admit the strobe lights and LED's began to give us a bit of strained eye syndrome and we thirsted for something a bit more upbeat. Overall a great set and definitely someone I suggest seeing when he tours which is not often.
Boys Noize ~ B.I.G. Tent (12:30 am – 2:00 am)
In previous years I spent so much time in the bigger dance tent that it was odd to not make my first entrance until now, but given who was on the other stages prior it made sense.  The B.I.G. Dance tent was curated that day by OWSLA (Skrillex's label) vs. Boys Noize Records (Boys  Noize's label).  Watching the main man himself close it out in style was a great way to end the night.  Dropping his German heavy electro beats kept our feet moving and our bodies shaking.  When all was said and done we were soaked in sweat and ready to call it a great Day 1.  We slowly meandered our way back to the site sore from the day, but also more excited for what the next day was going to bring.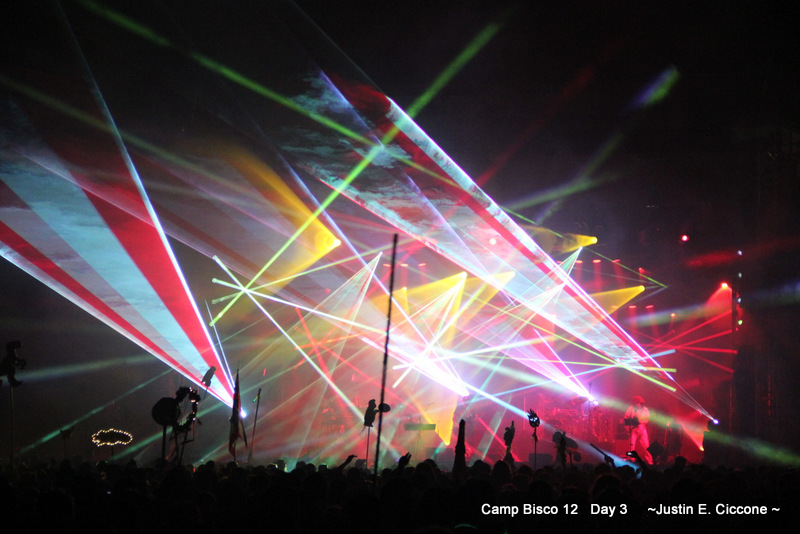 Friday 07/12/2013
With the prior day being slammed with such good music we wanted to take our time today and see what else Camp had to offer with the many new changes (including the giant inflatable mattress).  Also it was the perfect time to find several of our friends in GA and check out the amazing vendors all around the festival grounds.  I went and scored myself a sweet new Camp Bisco jersey to rep for the day (made by our friends over at Tanzanite Productions) and hauled it up to the new Gazebo Stage on the pond to get down to some fresh down-tempo beats.  After wandering around, crashing several of our friend's camp sites, and generally shooting the breeze it was time to get down to some music.
"He handled the crowd like a marionette pulling emotions out of every drop.  Watching his true fans (BNF heads) at his shows is like watching someone going through a religious experience. It was wild, it was intense, it was classic Bassnectar to the finest. "
Thievery Corporation ~ Main Stage 1 (5:45 pm – 7:00 pm)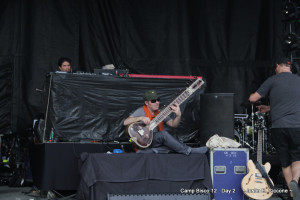 A last minute cancellation by Animal Collective led to Thievery Corporation being asked to play which was not only a huge surprise, but an upgrade for me as I have been lucky enough to catch them before.  They stepped up to the plate filling in perfectly with their sweet international sound getting us into party mood.  For the first set of the day, it was a delightful little treat.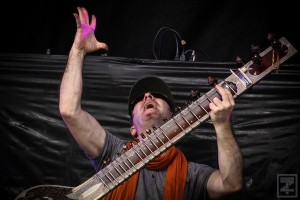 PERSEUS and Moon Boots ~ Label Tent (5:45 pm – 8:15 am)
Besides jam music, my other super guilty pleasure is Nu-Disco and I honestly don't think there is anything better to dance to in the great summer weather we were experiencing that weekend.  The French Express curated Label Tent was in short a Disco Dance Party!  I've listened to several mixes of both PERSEUS and Moon Boots, so to finally get to see them do their thing in person was just pure awesomeness.  They rotated between the two never missing a step and keeping the crown grooving the whole time.  Surprisingly it was not too crowded due to electro guru Wolfgang Gartner on Main Stage 2, making this one of the real sleeper sets of the weekend.
Bassnectar ~ Main Stage 2 (9:30 pm – 10:45 pm)
Say what you want about Lorin, but if there is one thing we can all agree on, that man puts on one of the greatest shows you can see for your buck.  In previous years I have been in the way back as he always draws the biggest crowd (none more evident than this year with no other acts having sets during his).  Luckily being in VIP I did not have this issue and got to post up on a platform to get full witness to the bass onslaught.  In short it was that, bass to the face for a good hour and a half.  There were too many hits to name that were dropped, but he dug deep hitting songs from his famed 2010 IDJ Mixtape and his old podcasts.  He handled the crowd like a marionette pulling emotions out of every drop.  Watching his true fans (BNF heads) at his shows is like watching someone going through a religious experience. It was wild, it was intense, it was classic Bassnectar to the finest.  I had also the honor of meeting his LED tech during the set which turned out to be a massive bonus as he later got me back stage for future acts (more on that later).  He closed it out with is slamming remix of Rage Against The Machine – Killing in the Name sending the crowd into a frenzy and ending his set proper.
The Disco Biscuits ~ Main Stage 1 (10:45 pm – 12:15 am)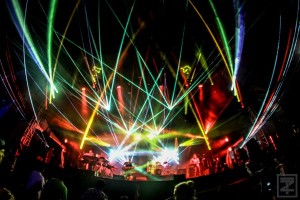 Not to be outdone they picked up where Lorin left off by starting their set with a cover of Killing in the Name leaving me with one of the most impressionable transitions of sets I have ever seen.  Supposedly they wanted to do it real time, but due to some technical difficulties were not able.  They still killed it despite this.  Now back to Bassnectars LED tech, he was cool enough to get me and some friends back stage for this set and my buddy got to go on stage to catch the whole Spacebirdmatingcall from the sound booth.  In his words "dreams do come true" as they crushed the set out with some great licks like Great Abyss, Hot Air Balloon, and a personal fav Highwire.
Gigamesh and Aeroplane ~ Label Tent (12:30 am – 3:30 am)
Late night Day 2 started with a bang as we checked out another Nu-Disco master duo with Gigamesh and Aeroplane in the label tent.  Like before, but with even more fresh beats to keep you moving.  With the b2b theme going strong this weekend they took turns at the helm spinning those CDJ's like no ones business.  Another awesome two sets to boot and a great start to the Late Night action.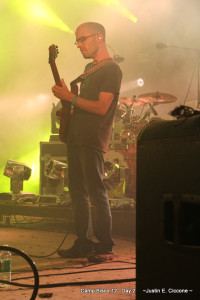 Lotus ~ B.I.G. Tent (2:00 am – 3:15 am)
Since I was unable to get on stage for The Disco Biscuits, my new main man Mike (Bassnectar LED tech) got me front and center for Lotus Late Night.  I've seen over 25 shows and to finally get to be that close was really a special treat.  I was front and center for Rempel's soothing guitar tones while Greenfield kept it moving despite a tech snafu leading to an impromptu drum solo.  Now I have been a fan of these guys for a very long time and to see them handle that issue without even being bothered was truly something else.  Also, what an amazing set list! From the get goes they got it started with the edgy and dark Blacklight Sunflare.  They followed up with the always crowd pleaser Flower Sermon and later on really bringing it home with Its All Clear To Me Now > Hammerstrike.  They finished strong with the one song I wanted to hear that weekend of Jump Off.  Needless to say I left with my jaw dropped that I was front row for one of my favorite bands absolutely crushing out the B.I.G. Tent.   Another great day in the books and back to home base for some much needed sleep for the finale!
Saturday 07/13/2013
So here we are finally at the home stretch.  The last day of Camp is always a bag of mixed emotions; excited for another stacked day of class A music, but also sad knowing it is soon coming to an end.  Not to let the latter take our moods we did our best to catch the acts we knew would be putting on the best shows.  It would seem though that because Bassnectar brought it so hard Friday (literally and figuratively as his extra subs sank Main Stage 2) a little bit of shuffling with the schedules was needed for all artists to get a chance to shine.  Some were not able to hear of these changes since cell service is non-existent and no PA announcements were made initially, but it did not damper the mood as clear blue skies were projected.  Thankfully we were in the loop in VIP and able to see everyone we needed to ensure a perfect last day of Camp Bisco XII.
Break Science w/ Special Guests ~ Label Tent (4:00 pm – 6:00 pm)
One of the moved sets, Adam Deitch and Borham Lee threw a star studded electronic laden jam session with the ever famed Slick Rick making an appearance.   Even though there was confusion on where they were playing once people heard them blaring from the Label Tent, a rush ensued to pack it in by the end.  It's clear why Deitch is a Grammy winning artist with his multiple drumming styles he uses depending on the situation to how he can command a crowd from a sit still position.
Zeds Dead ~ Main Stage 2 (7:15 pm – 8:30 pm)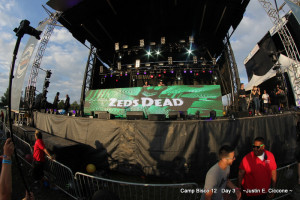 Back for an encore performance from last year, Zeds Dead lived up to the hype with the second largest crowd of the weekend.  Known for their many Dubstep hits, they played a wide variety of genres from Moombahton, Electro, Trap, and even Warped House.  After this performance I rank them in my must see DJ's anytime they are around as they cater to such a wide variety in their performances.
Gramatik ~ B.I.G. Tent (9:45 pm – 11:00 pm)
With his soulful glitch-hop, Gramatik brought a funk filled set having many say after that the Pretty Lights Label all-star may have surpassed its founder.  These are the type of beats filled with more than gimmicky sounds as his show that a place for incorporating live instruments as with his guitar sideman.
The Disco Biscuits ~ Main Stage 1 (9:45 pm – 11:00 pm; 11:15 PM – 12:30 PM)
Two fantastic sets to close the weekend and I got my Tricycle which always seems to be the Camp anthem "On my Tricycle…I'm In Heaven…".  Encore of Jamilia > Tempest > Munchkin Invasion to end the 6th and final set was done flawlessly.  As a fan I could not have been more satisfied.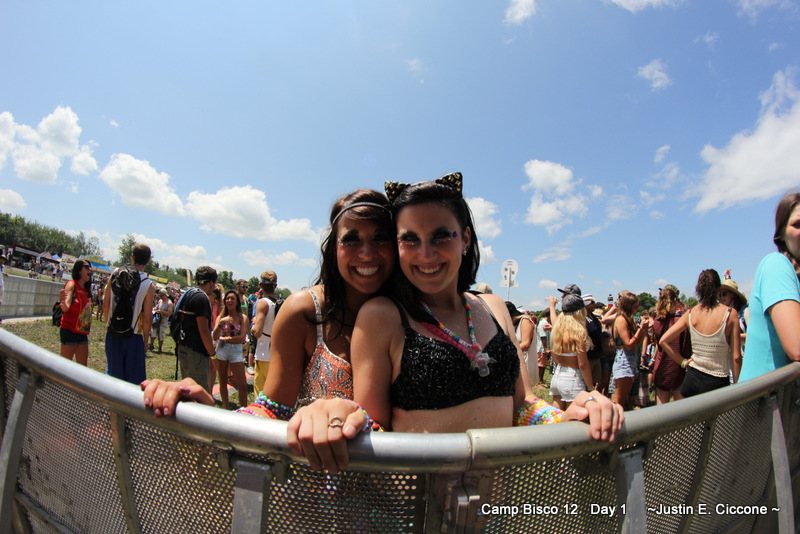 Dirtyphonics ~ B.I.G. Tent (11:00 pm – 12:30 am)
Was extremely pumped to finally catch these guys after missing them the past few times they rolled through Philadelphia and they exceeded my expectations.  True turntable masters, the quartet played an extremely energetic set doing b2b's in a whirl wind of flawless transitions.
Tommy Trash ~ B.I.G. Tent (12:30 am – 2:00 am)
The Australian madman brought his brand of dirty Electro house that was much needed at that point to keep us going.  As our tired legs began to wane his tunes were enough to push us to the final stretch of closing out our time on the festival grounds.  It was also a fair well to the dance tents which always leave a special place in my memory.
Spankin' Biscuit Brothers ~ VIP Tent (2:00 am – 3:30 am)
For the majority of the festival they only got to hear of this like folklore passed down through time, but I got to witness something very special to end my Camp Bisco XII.  A super group was formed that night of Tom Hamilton (Brothers Past – guitar), Jon Gutwillig (The Disco Biscuits – guitar), Marc Brownstein (The Disco Biscuits – bass), Aron Magner (The Disco Biscuits – keys), and a friend of mine Jeremy Worthington (Sonic Spank – drums) to cover Pink Floyd's Dark Side of the Moon in what can only be described as pure magick.  As I enjoyed my final show of the festival I reflected on how much fun I had and how well this Camp had gone.  Everyone from the artists, MCP/CID Productions, security, and of course the fans were hands down the best they could have been.  I could not have asked more out of my Camp Bisco experience and without a doubt will be back next year in VIP to do it all again!
 Check out our INTERVIEW with LUKE MILLER of LOTUS from this years 2013 Camp Bisco HERE.