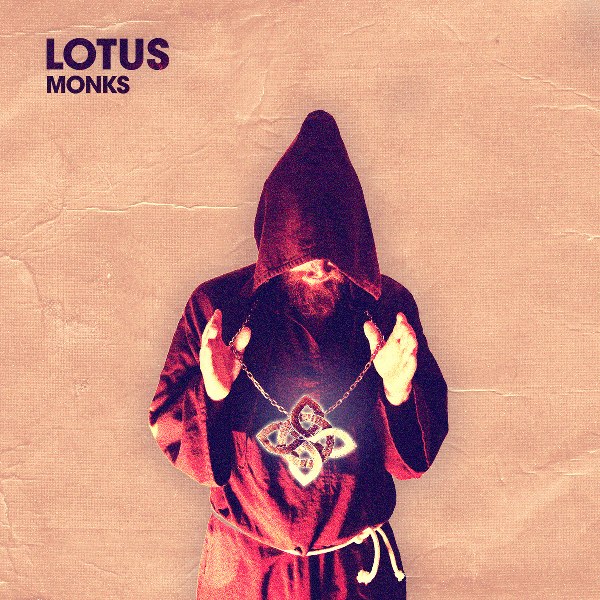 Lotus's new album Monks was released today and the band has decided to make it a "name your price" rate. Monks is available for download here, along with options to purchase a vinyl copy which Luke Miller assured Festival Footprints back in a July interview is well worth the price.
:: Videos ::
It's rare in today's industry to find artists releasing music videos, but if you were not aware already Lotus is different and today along with putting out a album for free the band released a music video to accompany the first single off the album "Cannon in the Heavens" featuring Lyrics Born & Chris Vos.

Video is directed and edited by Jesse Miller.
Bicycle footage shot at Denver Cruisers by Jesse Miller and Luke Bishop.
Cameos by Steve Molitz (Particle), DJ Logic, Clay Parnell and Tom Hamilton (Brothers Past).
Lotus' Jesse Miller also put together this lyric video for the song Cloud 9 (ft. Ras Arcane & Doodlebug) which is considered to be the second "single" of the the hip/hop remix album Monks.
:: Tour Dates ::
The road warriors continue to impress crowds all over the country and will continuing doing so right up to the end of 2013. Lotus has added 7 new dates including Post-Thanksgiving plans, New York dates and a big New Years Eve bash in Philly. As always fans have the opportunity to buy tickets with low service fees here.
New to the schedule:
11/01 Columbus, OH, Newport Music Hall w/ The Floozies, DJ MOXY
11/03 Urbana, IL, The Canopy Club w/ Cosby Sweater
11/07 Stroudsburg, PA, Sherman Theater w/ Cosby Sweater
11/08 Syracuse, NY, F SHED at The Market w/ Cosby Sweater
11/30 New York, NY, TERMINAL 5 w/ Up Until Now
**12/30-31 Philadelphia, PA, Electric Factory**