How many times have you gone to a show and skipped the opening act? If I had to guess, I'd say that most of you out there have missed more opening acts than you can count. It happens. And hey, they're just there to warm up the crowd for the main event, right?
Sometimes opening acts are forgettable. Sometimes they merely fill the void that exists before YOUR band or artist takes the stage. But sometimes the opening act is more than that.
Sometimes the opening acts are the reason you're at the show in the first place. On Saturday, April 27, that's exactly the reason I found myself at New Orleans' iconic Howlin' Wolf.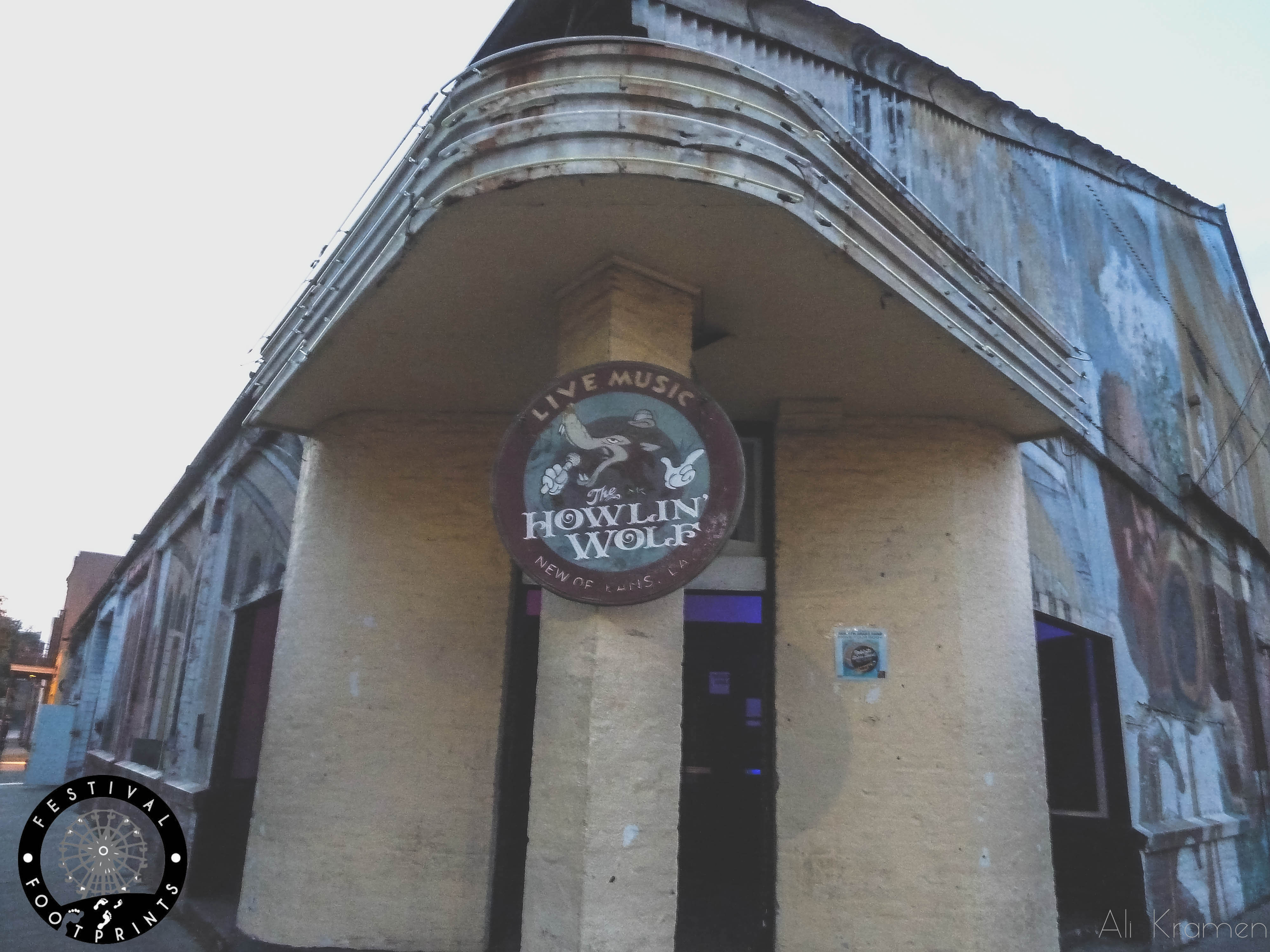 Don't get me wrong. I enjoy BoomBox, slated as the headliner of "Howlin' For Beats," an event organized by Jonah Lipsky of J.WAIL, and presented by Bridging the Music and Cervantes' Masterpiece. But I wouldn't go out of my way in New Orleans, a city filled to the brim with incredible music opportunities, to catch their set. No, I was there for Chuck Morris and Jonah Lipsky, the men behind Nunchuck and J.WAIL, the acts supporting the psychedelic electro-rock duo.
In part, I was there to support a friend. In addition to being a fantastic musician, Chuck Morris is one of the nicest people you'll ever meet, and I therefore make it a priority to catch his solo and side projects whenever I'm within striking distance of a show. It suffices to say it would not be my first Nunchuck show, but it would certainly be a special one.
Exactly a year before the "Howlin' for Beats" show, Morris, along with the entire Colorado music community, lost dear friend and colleague Joe Cahill. Joe was the lighting technician for the Colorado-based bluegrass fusion band Leftover Salmon, and on April 27, 2013 he was working for the band during their performance at the Howlin' Wolf. The show went on until very early the next morning, at which time Joe parted ways with the band, his fellow crew members, and numerous friends in the live music community to spend some time in the Crescent City. Sadly, he was the victim of a shooting that day, leaving behind a daughter, wife, a large immediate family, and innumerable friends, all of whom have been left without a clear answer as to what exactly happened that day.
However, those who knew and loved Joe have found ways to express their love of him and grief over his death, and these expressions found their way to New Orleans during the city's world-renowned Jazz Fest this year. Joe was certainly no stranger to the music scene, having worked with Karl Denson's Tiny Universe and the String Cheese Incident, as well as handling lighting at Fox Theatre and Boulder Theater in Boulder, CO. Perhaps a reflection of his deep involvement with live music, as well as the timing and location of his passing, his presence was strongly felt during the two-week musical extravaganza known as the New Orleans Jazz and Heritage Festival. I remember attending the free Oak Street Block Party in front of the Maple Leaf Bar a few days after "Howlin' For Beats" and seeing person after person wearing large buttons featuring the image of a smiling Joe Cahill in a faded Boston baseball cap. It was an indescribably moving sight.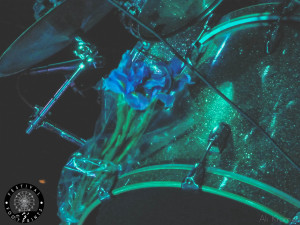 The "Howlin' For Beats" show provided a special opportunity to honor Joe's memory. The show took place at the very location of the last show he worked, a year to the date. Morris brought with him a bouquet of local Louisiana Irises, which were laid on top of his bass drum for Joe during his Nunchuck performance. And I truly believe Joe was with us that night.
I'll tell you why I think that.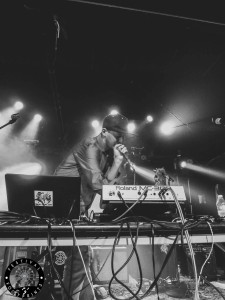 First of all, both Lipsky and Morris offered stellar performances that night. The diversely melodic soundscapes of Lipsky's J.WAIL at one instant had the makings of an epic video game soundtrack complete with underwater world and galactic villainous castle, only to shift to a track featuring a more ambient Eastern-influenced sound, then to the reggae-tinged dub sounds of the Caribbean (here I am talking about the much more melodic original dub style you'd find coming out of Jamaica, as opposed to that sad excuse for mimicry better known as American-style dubstep). The duo even slid in some sexy electro-funk. Not too shabby.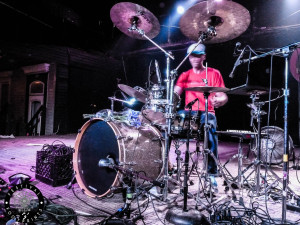 Later that night, Morris continued the musical trip around the world initiated by J.WAIL with a Nunchuck set heavily influenced by world music – from tribal beats to melodies with Middle Eastern, Eastern European, and Asian influences, to psychedelic outer space soundscapes that brought to mind a galactic robot world. In short, the set spanned both real and fantasy worlds, touching upon a wide variety of cultural influences within those worlds. It was diverse and beautiful and full of life. A perfect representation of a rich and complex life cut too short by the universe, as is sadly too often the case in this world.
More importantly, Morris seemed to intently channel the music he played that evening. It so easily flowed forth from him, emanating from him like the sun revealing itself as it rises above the tree line. The passion was perceptible, and he seemed truly happy to be on stage, doing what he loves, in the name of a person they held so dear. It was a beautiful night of music, and a wonderful tribute.
One final instance suggested Joe's presence at the Howlin' Wolf that night, after Morris' Nunchuck set. Morris went to the bar for a well-deserved drink, ordering a Stoli O with Sprite and a splash of cranberry juice. After the fact, Padge McQuillan, the Production Manager of Morris' main gig Lotus and fellow Coloradan and friend of Joe, mentioned that he would be drinking the exact drink in Joe's name, as it was Joe's favorite. Morris found it interesting that he had unknowingly ordered that very drink. McQuillan's response? "Chuck – not a coincidence."
It surely wasn't, Padge. It surely wasn't.
Stay up-to-date on both artists and their upcoming performances – click here to view the facebook pages of Nunchuck and J.Wail.