Lockn' Music Festival :: Oak Ridge Farm :: Arrington, VA :: 09.04 – 07.2014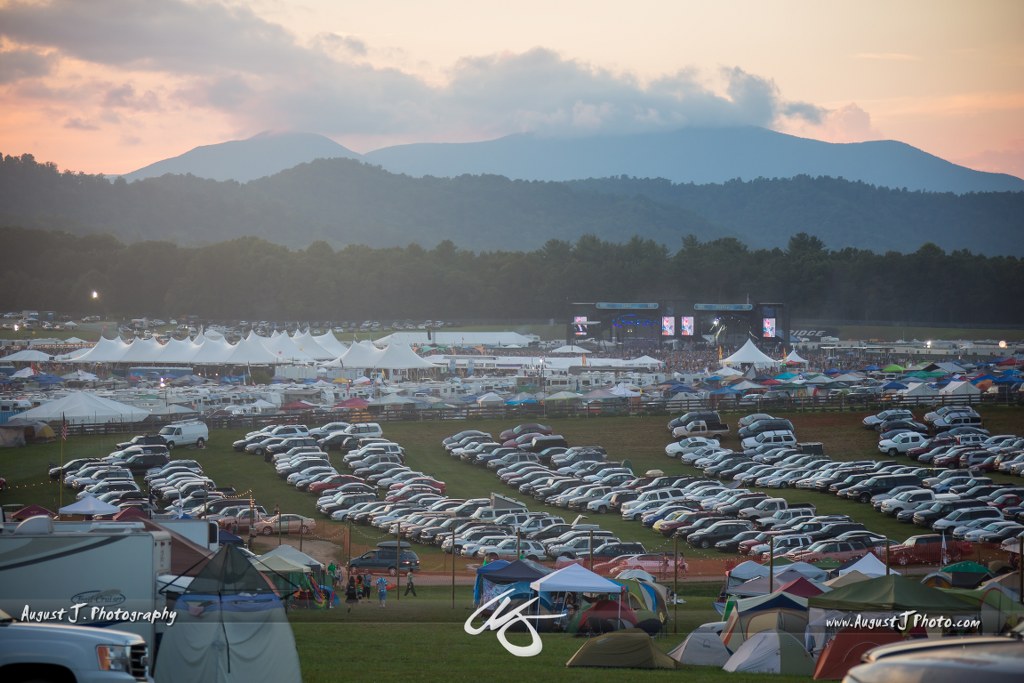 Photos By: August J
Words By: Jocelyn Dietrich

They say Virginia is for lovers. On the weekend of September 4th, that was exceptionally true, for Music lovers, for festival lovers, for lovers far and wide, and they all came together to experience the ultimate line-up that was Lockn' Music Festival.

The air was warm, the sunset phenomenal, on the night of Wednesday, September 3rd, in Arrington, VA, as we all rolled into Camp 6 – staff camping. This was the first festival that I've worked and I had no idea what to expect. It was also my first Lockn', so I really had no idea what to expect. The party began early – I could sense that since we all knew we had to work the next day. We did, however, feel as if this was our chance to get silly together before the responsibilities of the festival took over. Tents popped up, beers were cracked–we were officially home for the next four days.

It's a strange feeling when "festie life" and "real life" collide. Getting up and ready for work from my tent was quite the experience. I've never set an alarm at a festival before and 11 AM came fast, after a wild night of meeting the neighbors, sharing booze and food (which was scarce because we all were told we'd be fed and didn't think to pack snacks), and exploring the festival grounds. Lockn' really had it together, as far as the layout went. A huge festival can be a huge cluster-fuck, but this was obviously not the production company's first rodeo. The main stages sat side by side, with specialty local food vendors, craft beer tents, and clothing and craft vendors holding down the main venue area. Leaving the main venue led you to Shakedown, where the after-hours parties were held (we'll get to that later), which then led to GA camping. Everything was easy to navigate, and everywhere you went there was something else to do and to see.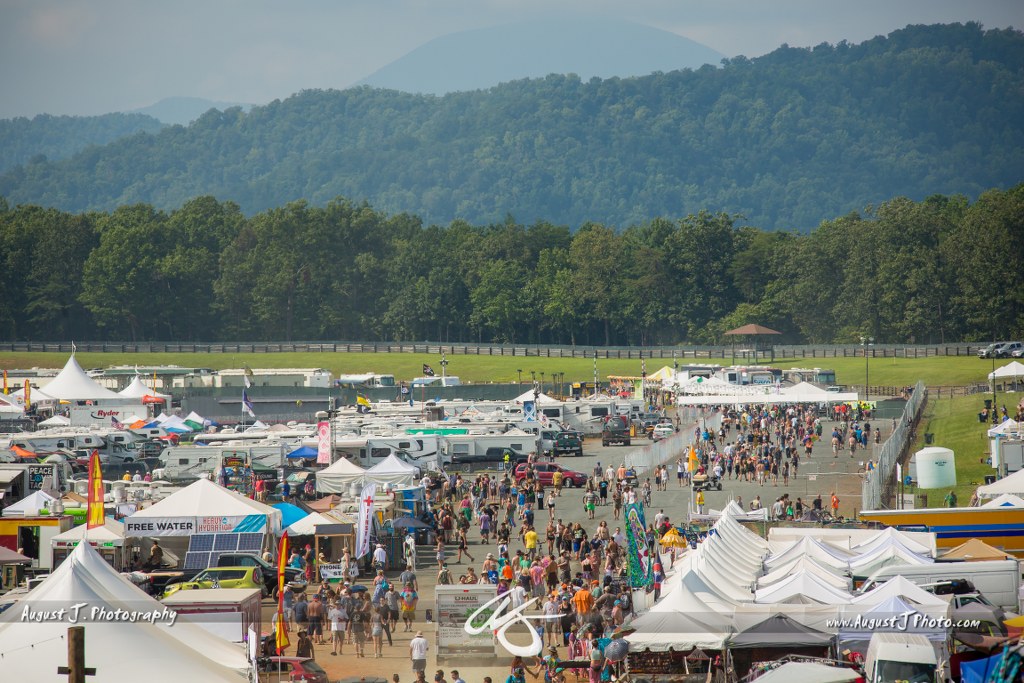 Thursday seemed to start slow, with people getting in that day, setting up camp, and casually making their way to the main venue – where the music was not slow. The No BS Brass Band kicked off the festival with a high energy funk and rock show to set the tone for, The Revivalist. I was working the beer tent, which provided me with great audio and visuals of the stage, and a great outlet to meet and talk to attendees from all walks of life. I learned that The Revivalists have quite the following, after speaking to a weird combination of some teenie-bopper spunions, and old heads about how great they are. The Wood Brothers took the stage next, transitioning from funk/rock into their Americana blues tunes. Their set contained hits from each of their albums, and ended with a crowd favorite, "Ophelia", originally played by The Band. Lettuce turned it up a notch, getting back on the funk-train, and getting the early birds moving and grooving, but after Lettuce the greatest game of sonic ping pong began – Umphrey's McGee – The String Cheese Incident – Umph again- Cheese again. Two back-to-back sets from two of the heaviest hitters of the jam band/festival scene.

Umphrey's McGee didn't disappoint. By this time, most people that were coming Thursday night were in and ready to party/already partying. Umph got the energy high and the bodies moving. Ping over to the left stage, Cheese was on for their first set, a lovely compilation of seven songs, old and new. It wasn't anything less than amazing, coming from a shameless cheese head, but definitely not their full potential. Pong back to the left – Umph again. Hit after hit, the party continued to grow, as did the beer lines. "The Floor", "Wappy Sprayberry", "Cut The Cable", "Puppet String", "Higgins", and ending with the Pink Floyd cover, "Shine On You Crazy Diamond". Umphrey's McGee left no one disappointed, and everyone ready to get the funk down with String Cheese for their last set – "Cheese and the Gang".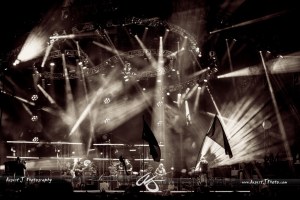 Judging from the things I heard from my co-workers and beer tent patrons, I was not the only one looking forward to this Thursday night closer. Cheese is known for covering everything from Lauryn Hill to Led Zeppelin to Eminem, but this set was strictly dedicated to the R&B, funk, soul, and disco sounds of Kool and the Gang, which was only enhanced by none other than J.T. Taylor, the original singer/songwriter for Kool and the Gang, and the Preservation Hall Jazz Band. "Jungle Boogie", "Ladies Night", "Get Down On It", and "Celebration" were just a few of the hits that turned Thursday night into quite the dance party.

After Cheese's final set, the main venue closed down and the crowd moved the party to Shakedown Street – where everything was certainly shakin'. Vendor's booths bumped deep bass tunes, Grateful Dead, and everything in between. The after-hours stages were also very alive. I met a buddy and we parked ourselves at Dumpstaphunk, as soon as I was off bartending duty in the main venue. Medicinal flowers and bags of wine to slap were plentiful, and the ground was getting muddy already from the steady dancing taking place on the hill. I slapped some bags and shared my own (because who doesn't carry a bag of wine in their backpack at a festival), and partook in the party just until I wasn't sure which direction was home. It was only the first night, none of us really knew which direction was home yet, even if we did not need to. The sun was just about to break the horizon, when I finally figured out which way was up and back to Camp 6… Lockn' was officially in full effect.

Friday was hot and muggy. The best of the best continued rocking, with Oakridge Farm starting at 11am… Keller Williams, Cabinet, and Tauk were the musical peaks of the daylight. Egg rolls full of pulled pork, bacon, and macaroni and cheese from the Gouda Boys were another highlight of my day, along with their crazy vibes and the "Bacon for Boobies" sign they hung proudly (I did not participate FYI). I was back to work for the afternoon, seeing familiar faces and meeting beautiful new ones.
Lockn' goers are a special breed. I met two men that traveled from Northern California to Lockn' and had the most lovely vibrations to share. They were the epitome of Lockn' to me. Successful 50-somethings, decked in their old GD shirts, hat pins, and patches – ones that us new age hippies wish our parents had saved.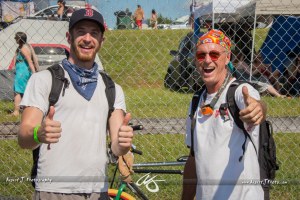 I spoke to one of them at length about their prime hippie days and how seriously they party while reliving those times. "It's the music, man. I had my share of drugs in my day – I have too many responsibilities to too many people now. No matter how far from home I am, I owe it to my children to just drink some beer and maybe smoke some herb, nothing crazy." With that his phone rang – "Hello, hey, yeah…ya'know, I'm at a rock concert—" he ended the call "–fuck work right now, man!" he said, with a chuckle. I saw them frequently throughout the rest of the festival. They tipped me generously, with a few bucks per beer, an iced peach, and a bag of Açai Blueberry chocolates.

In general the food at Lockn' was some of the best I've had. From the Local tent full of organic, vegan, clean foods, to the vendors on Shakedown including Shady Grove Wraps and Peace Love Tacos, to the people just sharing the love throughout the campsites who made me a cheesesteak at 3:00AM on Wednesday night – I ate better than I have ever eaten at a festival. Normally pizza is the best option, but not at Lockn. I indulged in gourmet cheeseburgers, arugula couscous salad, stuffed avocados, grilled brussels sprouts, sausage gravy and biscuits, and some of the most amazing macaroni and cheese known to man, just to highlight some of the goods. They were definitely keeping the people happy. I found that food tips were some of the best. Working 14 hour shifts made eating a difficult task. Someone from Peace Love and Tacos brought me a plate of tacos. Others gave me free meal vouchers. One man even shared his sausage sandwich with me. Providing beer for a crowd like this was an important job. They appreciated us. The festival vibes of caring and sharing were beyond anything I've ever experienced.

Friday night's headliner was none other than Phil Lesh and Friends, after a couple more crazy Cheese sets and some Locknstep Allstars. Phil and Friends killed it. Grateful Dead, Cream, and Traffic covers rang through the clear night sky. The crowd wasn't drinking as much beer as anticipated, but they were definitely not sober. It was one of those nights that every blink is a mental photograph, a night I never want to forget. The after parties continued down Shakedown Street once again into the wee hours of the morning.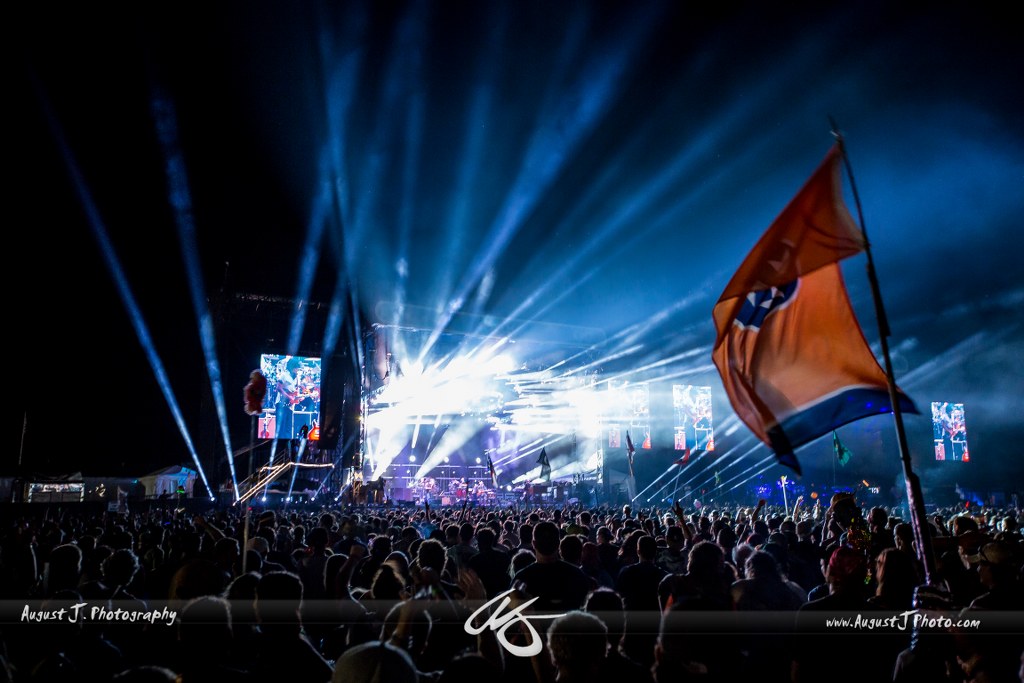 Saturday was an extra-humid day, but despite that the crowd seemed to double. Wilco, more Phil and Friends and some Widespread mother f****** Panic got in great sets before the "storm" that shut the place down. First they told us to evacuate back to the campsites, then they said to seek shelter in a tent – causing quite the ruckus in the beer and Local tents – then they said no one was allowed to be in the tents. By this time, the rain had come, gone, and confused the hell out of us. We were all expecting some tornado strength winds and torrential downpour, but lucked out with just a nice, heavy shower to cool off the night. Before they could clear the tents of people, the lights were back on and raincoat clad music lovers were pouring back in to gear up for some Tom Petty and the Heartbreakers. The music was barely delayed, and they played every single song I could have hoped to hear, including "Mary Jane's Last Dance", "Into the Great Wide Open", "I Won't Back Down", "Free Fallin'", "Runnin' Down a Dream", "You Wreck Me", "American Girl", and a few unfamiliar tunes, as well. I won't lie, though, Tom was definitely not the energy I was hoping for. I grew up listening to Tom Petty and the Heartbreakers with my parents and hearing my dad's band cover their tunes, so it was extra special to see and hear them, but I was not blown away. I managed to sneak in the Bustle in Your Hedgerow, also known as The Benevento/Russo Duo (or The Duo for short) late night show that night. They're an alternative jazz/rock band from New York City, made up of Marco Benevento on keyboard instruments and Joe Russo on drums. If you ever get the chance to see them, don't miss it.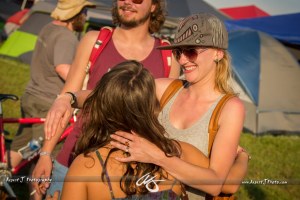 My after party continued into the daylight, about 3PM on Sunday to be exact. We took our fishing rod with a helium balloon attached to the end into the venue. When you cast, the line floats up, up and away… allowing friends from far and wide to locate us. We call it hippie fishing. I hooped to some Grace Potter – who absolutely blew the afternoon away. The woman's got some pipes, and great stage presence. I cast out my line, and unfortunately slept through Willie Neslon and Wilco and Widespread's second sets while waiting for a bite. I woke up just in time for all of my hippie fishy friends to gather and prepare for our final set of Lockn' together – The freaking Allman Brothers.

It was nothing short of perfect. The crowd had dwindled to those who came mostly for the Allman Brothers, and those who had the fortune of not having to work on Monday – whether it be a sick day, vacation or unemployment. Everyone was low key through most of the set, many people sitting for the majority of it, but jamming just as hard as they could from the crochet blankets and tapestries draped on the damp ground. They closed the main stage of Lockn, and supposedly their career together, with "Blue Sky", "Little Martha", and "Mountain Jam". I felt like the entire crowd was hugging by this point, if not literally', then figuratively. We had just spent the last 4 days together, getting to know each other, sharing fabulous memories and creating new ones. We were one big happy family, and none of us wanted to let go.

So we didn't–Shakedown's after-party was the best yet. We finished up the last of our goodies, sharing them with everyone. There was plenty of music and dancing in the "streets" until god-only-knows what time. The sun was definitely up again before I made my way back to my tent bedroom for the last time (regardless of how many bags of wine I slapped, I could get there with my eyes closed by now). Lockn' had become home. The main stages were our living room, Shakedown our backyard, and the camping area was referred to as "upstairs". Everyone there was family, full of giving hugs, smiles, and stories of Lockns' past. I couldn't be more thrilled to go back next year to see my friends, old and new, to relive my memories of Lockn' 2014 and create new ones. I'm not sure if Virginia is for lovers, but Lockn' definitely is.