Bear Creek Music & Art Festival :: Spirit of the Suwannee Music Park :: Live Oak, Florida :: 11.13 – 16.2014
Words By: Alex Bayer
20 Must-See Artists at Bear Creek 2014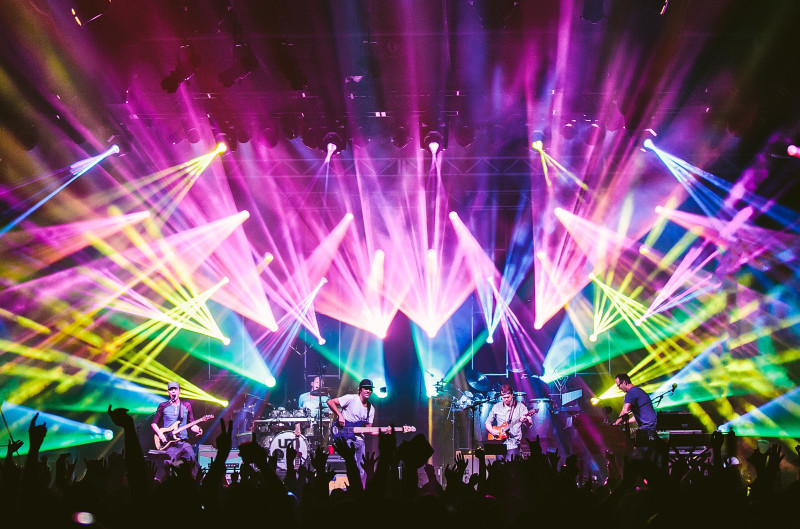 1. Umphrey's McGee
Umphrey's is one of the most versatile jambands on the scene. Their progessive improv style is influenced by many classic rock, metal and prog rock bands like Led Zeppelin, Pantera, YES, Pink Floyd, and the Police. Lead guitarist, Jake Cinninger, orchestrates their "Jimmy Stewart" improvs, using Frank Zappa inspired hand signals that lead the band to produce extremely professional live compositions. Not to mention their killer light show.
2. Lettuce
Playing for 20 years strong, these Berklee School of Music old time friends bring the heat! Lettuce combines elements of old school funk and hip-hop and has one of the most badass drummers out there, Adam Deitch. You can catch Lettuce anywhere from a club show to a cruise ship. This all-star cast of musicians really know how to get the party started and keep it going.
3. Dumpstaphunk
Formed in 2003, Dumpstaphunk is known as New Orleans funkiest band. Their deep jazz and blues creates a very unique sound that exceeds all boundaries of their genre.
"If Dumpstaphunk was a 3 course meal it would start with a juicy rhythm section, then move on to a beautiful arrangement of guitars and keys, seasoned with some soulful vocals and add a pinch of Cosmic Slop for good measure."
-Austin Chronicle
4. Soulive
Following styles of rock, hip-hop, jazz and blues, Soulive always keeps it groovy. This trio of guitar, keys and drums has been involved with tons of collaboration with artist from many genres: John Scofield, Dave Matthews and Joshua Redman to name a few. This year NY hip-hop artist Talib Kweli will be joining them on stage for a super special set of music.
5. Chris Robinson's Soulive Revue
Chris Robinson of the Black Crows teams up with Soulive and the Shady Horns for a once in a lifetime show. Talib Kweli and other guests are sure to appear on stage as well. One of the many superjams of Bear Creek.
6. The New Mastersounds
Based out of Leeds, England, this 4-piece band brings together vintage styles of soul, jazz and rock. The New Mastersounds make modern funk sound classic, Influenced largely by Jimi Hendrix and the Meters.
7. Budos Band
This 9-piece band describes their music as Afro-Soul. Formed in 2005, The Budos Band throws it back to 70s psychadelic grooves. Staten Island, NY street music than sounds even better on stage.
8. The Floozies
Brothers Mark and Matt Hill of Lawrence Kansas produce some really cool electronic dance music. An epic dance party is sure to go down when these dudes take the stage. With fresh, deep, trip-hop beats you can't help but get weird.
9. The Nth Power
Members of Dumpstaphunk, Lettuce, Toubab Krewe and others unite to form The Nth Power. Their powerful soul and world beats will leave your skin with goosebumps and fill your bones with love.
10. Orgone
Orgone creates a sound of deep soul and afro-disco that will keep the dance party going. Based out of Los Angeles California, 8 members have a dynamic of funk and these guys keep it real. Cant skip their two sets at Bear Creek.
11. Turkuaz
9 members consisting of saxophone, bass, guitars and synthesizer create a world-pop-power groove group: Turkuaz. Gathering influences from the Talking Heads, Parliament and Motown; these guys will blow your mind when they take the stage Friday night at Bear Creek.
12. See-I
From North Carolina to Washington D.C., these dub masters have been jammin' together for 15 years. See-I is made of brothers Rootz and Zeebo Steele from Theivory Corporation among others. The electro-reggae group plays shows Thursday and Friday this year.
13. Roosevelt Collier and Oteil Burbridge Band
Roosevelt Collier, one of the Artists at large plays the lap guitar, or steel guitar. Fitting right in with the jazz, blues and funk vibe of Bear Creek, Collier is teaming up with two time Grammy winning bassist Oteil Burdbridge on Saturday for a collaboration of awesome music.
14. Zach Deputy
Deputy describes his music as "island-infused drum n' bass gospel ninja soul." Quite the description. Definitely a great one man act to see; this dude plays guitar, sample pads and beat-boxes on loops. Based out of Savanna, Georgia, Deputy plays many styles including Caribbean, Latin and African music.
15. Nicholas Payton Trio
Nicholas Payton, born in New Orleans plays the trumpet and electric piano with the help of drums and a stand up bass. This jazz trio will be performing two sets, one Saturday and the next on Sunday.
16. The Main Squeeze
This post funk band won an international battle of the bands in China before having 3 years of experience together. Currently residing in Chicago, Illinois, the Squeeze will be a fun electr-jazz-rock act to see on Thursday and once again on Saturday.
17. TAUK
A psychadelic jam rock quartet is from Oyster Bay, NY. TAUK is one of many instrumental bands at Bear Creek and will be playing some electro-hip-hop mixed with ambient jazz on Saturday and Sunday.
18. Earphunk
Yet another great band from New Orleans. Progresive funk with a classic rock sound. Check out Earphunk's set on Saturday for some high energy improv and psychadelic organs.
19. St. Paul & the Broken Bones
Good ole Soul music out of Birmingham, Alabama. St Paul and the Broken Bones takes it back their music gives you that old school soul vibe.
20. Sister Sparrow and the Dirty Birds
8 member out of Brooklyn NY consisting of drums, bass, harmonica, baritone sax, trombone, trumpet and guitar. Sister Sparrow and the Dirty Birds play a mix of rock and blues that you won't want to miss.
..:: Get you tickets HERE and start planning your weekend with the daily artist schedule HERE ::..