Lotus Hits One Out of the Park on 'Build'
Released: February 19, 2013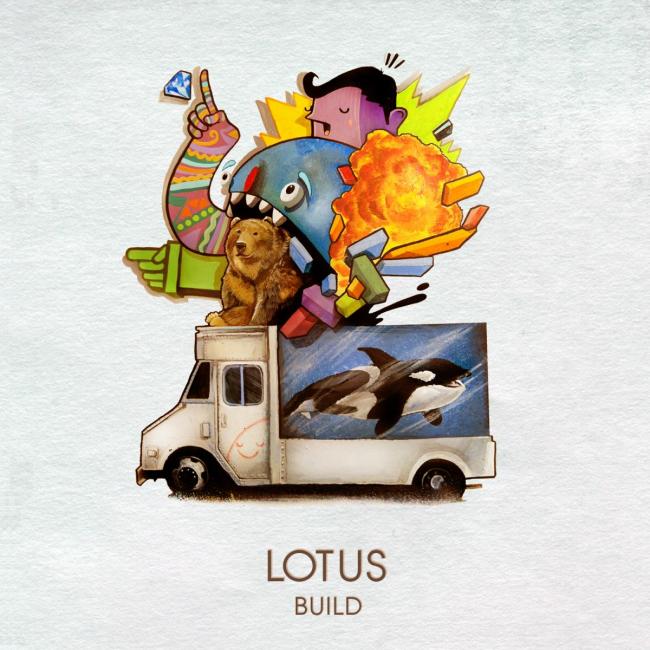 Words By:  Jeanne Bettencourt
Photos by August. J & Chris Paul
This past week the masterminds behind livetronica powerhouse Lotus added 'Build' as their tenth release to the already impressive list of studio music. As a follow-up to their self-titled album 'Lotus', 'Build' is excellently produced and tight sounding with a much heavier electronic influence than past releases.  For those Lotus fans out there that complain about the direction that the band has gone in terms of the synthetic side of things, give the album a listen before you write it off.  While the electronic sound might be heavy, it emphasizes the use of just as much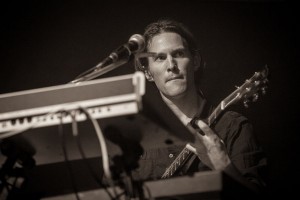 instrumental/organic elements creating the perfect balance between the two.   Those that also whine about the change in Lotus' sound should perhaps accept that the livetronica genre just might not be for them and find somebody else to listen to.  These guys do a perfect job incorporating pre-mixed, electronic material with organic, improvisational live performance, and refuse to be pigeon-holed into a sound.  Their music is constantly evolving (as opposed to just recycling old material) and they should be commended for it, not scorned.  Even for those who cannot get enough of their old, 'jammier' sound should be able to appreciate the influence that the 'old' Lotus has on their new songs – when the songs off their more recent albums are performed live, the jams are very organic sounding, and the Lotus from 5-10 years ago shines through.  All of the songs off 'Build' also translate perfectly between studio and live performance, and the only complaint I have about the album is that Jesse Miller's bass is not emphasized enough.
These guys do a perfect job incorporating pre-mixed, electronic material with organic, improvisational live performance, and refuse to be pigeon-holed into a sound.
This album features several dark and edgy songs that are hard-hitting.  The first song off the album, 'Break Build Burn', is a great first track that might as well just smack you in your face.  The song (among a few others) features horns by Rubblebucket, and has a hip-hop element to it.  Following this song is the album's first single 'Massif', a song that is easy to dance to and really accentuates Luke Miller on keys.  Even though this song has received a lot of flac from die-hards, if taken for what it's worth as a dance tune, it's difficult to hate.  'What Did I Do Wrong' is one of my favorites off the CD, with a great organ intro that sets up the song perfectly, and the fun and swirly sounding tune also has an excellent guitar solo.  The next track, 'Uffi', seems to be a favorite of many with its jump-around-the-room beat and funky sound.  The song is a perfect blend of all elements of the band and has an intense energy that builds throughout the song ('Build' is also a perfect name to the album as all of the tracks build in energy throughout).  'Middle Road' has a confusing component to it that adds to the silliness of the composition; this one definitely gets the crowd and band into a wonderful groove when performed live.  As always the pairing of guitar and keys is impeccable, which could be due to the obvious compatibility between guitarist Mike Rempel and keyboardist Luke Miller, but I believe a lot of the credit belongs to song-writer Luke Miller as he pays both instruments and works on all of the compositions with his brother, Jesse.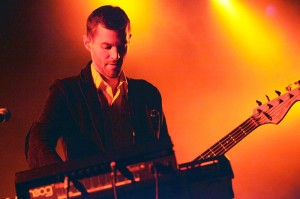 'Kodiak' picks up the second half of the album with a heavy synthetic emphasis and a lot of energy.  The build up about 2/3 through the song gives me goose bumps and is also another great key/guitar section.  Perhaps my least favorite off this album is 'Cutinuo', but that's only because I don't really care to hear it live.  The studio version of this one is superb, and perhaps the darkest on the album, executing the use of creepy sounding keys and edgy guitar.  'Aschon' is almost as dark and my personal favorite in terms of the use of the guitar as well as being the best dance song on the album.  Finally, my absolute favorite off the CD (and one of my favorite songs by this band at the moment) is 'Neon Tubes' (Pt. 1 & 2).  The two tracks close out the album and showcase their talent as musicians (especially when performed live).  The song has so many different sounding parts and tempos (dark and uplifting, fast and slow) and is funky throughout.  The breakdown is my favorite part (starts building at the end of pt. 1 and starts off pt. 2) and Jesse Miller's bass is most noticeable on this track.  The energy just keeps building throughout the song and I find it hard to not dance in my seat as I listen to it while I write this.  Overall, 'Build' is an excellent addition to Lotus' catalog and repertoire of live songs.  Bravo gentlemen!
Support the artist and buy the album here!
Tour Dates
January 24 Burlington, VT—Higher Ground*
January 25 Boston, MA—House of Blues*
January 26 New York, NY—Best Buy Theater*
January 27- Brooklyn, NY—Knitting Factory
January 30 Syracuse, NY—The Westcott Theater*
January 31 Cleveland, OH—Beachland Ballroom*
February 1 Royal Oak, MI—Royal Oak Theatre*
February 2 Columbus, OH—Newport Music Hall (co-bill with Keller Williams)*
February 5 Grand Rapids, MI—The Intersection*
February 6 Bloomington, IN—Jake's*
February 7 Milwaukee, WI—Turner Hall Ballroom*
February 8 Madison, WI—Barrymore Theatre*
February 9 Minneapolis, MN—Mill City Nights*
February 12 Lincoln, NE—Bourbon Theatre*
February 13 Fayetteville, AR—George's Majestic Lounge*
February 14 Oklahoma City, OK—Diamond Ballroom*
February 15 Dallas, TX—Trees*
February 16 Austin, TX—Stubb's BBQ*
February 19 Tallahassee, FL—The Moon*
February 20 Tampa, FL—The Ritz Ybor*
February 21 Orlando, FL—Beacham Theater*
February 22 Ft. Lauderdale, FL—Culture Room*
February 23 Jacksonville, FL—Freebird Live*
February 26 Wilmington, NC—Brooklyn Performing Arts Center*
February 27 Carrboro, NC—Cat's Cradle*
February 28 Asheville, NC—Orange Peel*
March 1 Atlanta, GA—Terminal West*
March 2 Atlanta, GA—Terminal West
March 15 Richmond, VA—The National (w/ The Werks)
March 16 Richmond, VA— (w/ Former Champions)
March 20 Phoenix, AZ—Crescent Ballroom^
March 21 Tucson, AZ—Rialto Theatre^
March 22 Los Angeles, CA—El Rey Theatre^
March 23 San Francisco, CA—The Fillmore^
March 26 Petaluma, CA—McNear's Mystic Theatre^
March 27 Chico, CA—Senator Theater^
March 28 Arcata, CA—Arcata Theatre^
March 29 Portland, OR—Roseland Theater^
March 30 Seattle, WA—Showbox At the Market^
April 1 Park City, UT—Park City Live^
April 2 Aspen, CO—Belly Up Aspen^
April 3 Fort Collins, CO—Aggie Theatre^
April 4 Boulder, CO—Boulder Theater
April 5 Boulder, CO—Boulder Theater
April 6 Boulder, CO—Boulder Theater
(*) w/ Moon Hooch
(^) w/ Vibesquad